New research published today in Nature suggests the first people to settle in the Pacific were from Asian farming groups rather than the Papuan ancestry that had been suspected.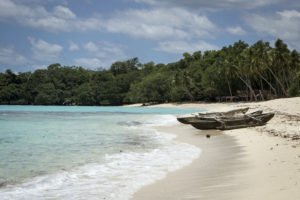 The international team of researchers sequenced ancient DNA from 3000-year-old skeletons from Vanuatu and Tonga and found they had little or no Papuan ancestry. Rather, the researchers suggest the first people to reach remote Oceania were from Asia and were later joined by people with Papuan ancestry.
Massey University's Professor Murray Cox was involved in the research and said the revelations could hold the key to future health improvements for Māori and Pasifika populations.
"Unlike European New Zealanders, where we can leverage off research done in the UK and USA, we knew very little about the genomes of Pasifika and Māori. We knew that they had a mixture of both Asian and Papuan ancestry, but had no idea how this came about or when," he said.
More information about the study is available at scimex.org.
The research was covered by NZ and international media:
NZ Herald: Skeletons reveal ancestors of Maori
TVNZ: Study of ancient DNA finds first Pacific settlers were Asian
Stuff.co.nz: New research on ancient Pacific skeletons reveals Maori ancestors
Radio NZ: Ancient DNA shows Asian farmers first Pacific people
The Guardian: DNA shows first inhabitants of Vanuatu came from Philippines and Taiwan
ABC News: DNA reveals Lapita ancestors of Pacific Islanders came from Asia