A report from the Ministry for the Environment has warned that New Zealand lacks a coordinated plan to deal with future climate change, which threatens hundreds of billions of dollars of property and infrastructure.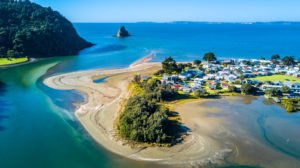 The report, which had been withheld by the previous government, was leaked prior to the September election. Today, Climate Change Minister James Shaw formally released the report, which he said showed a clearer picture of the scale and urgency of climate change.
The Coastal Hazards and Climate Change guidance is a major revision to the 2008 edition and was published alongside a stocktake report from the Climate Change Adaptation Technical Working Group.
The stocktake found there was significant work required to adapt to climate change, there was a lack of coordination and agreed priorities between agencies and actions had generally been "reactive" after a climate-related event had happened, rather than preparing for future climate change.
Earlier in the week, Newsroom's Eloise Gibson and Cass Mason wrote about the withheld report, saying that the Thames-Coromandel District Council had factored in a sea level rise of 1 metre in the absence of official guidance, despite advice from flood experts to consider seas 2m higher. The Newsroom article was funded through the Aotearoa New Zealand Science Journalism Fund.
The SMC asked experts to comment on the report.
Belinda Storey, Principal Investigator, Deep South National Science Challenge, comments:
"This is an excellent piece of work. A key change from the 2008 guidance is the introduction of a new approach to decision making. Under climate change, there are many things that you can no longer take for granted like the maximum water level at high tide. In addition to sea level rise, climate change will bring storms that we as a nation have never experienced.
Continue reading "Warning to plan now for sea level rise – Expert Reaction"