The extent to which we have changed our natural landscapes is highlighted in the latest instalment of the Ministry for the Environment and Stats NZ's environmental reporting.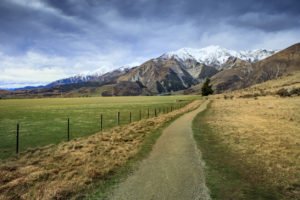 Our Lands 2018, released today, also indicates significant gaps in our knowledge about land use and the flow-on effects to soil.
The report and other materials are available on MfE's website.
The Science Media Centre has asked experts to comment on the report.
Dr Anne-Gaelle Ausseil, Manaaki Whenua Landcare Research, research priority leader, comments:

"Although there isn't anything really new, the value is in bringing together key datasets and ensuring they were up-to-date, appropriately interpreted and verified. The use of indicators, and the focus on reporting change over time and current state, allows people to see where the problems are, and which issues we should focus our efforts on.
"In addition to this, the data gaps have been highlighted in the report, with a particular lens on priority areas to improve our knowledge on how we use the land, and how the land use impacts on economic, social and cultural values. Manaaki Whenua Landcare Research is working with MBIE, other research providers and sector stakeholders to fill these data gaps, including by leading large-scale research programmes to accelerate delivery of high-quality soil mapping, soil health, erosion and sediment, and land cover data and information.
"This report is important as it represents the first ever New Zealand report on the land domain. It follows another key international initiative from the UN that Manaaki Whenua Landcare Research and many others are contributing to: the Intergovernmental Platform on Biodiversity and Ecosystem Services (IPBES) has just released key assessments of interest to New Zealand (land degradation and restoration, Asia-Pacific assessment). Both are important steps that will support policy development through scientific evidence."
Conflict of interest statement: Anne-Gaelle was a member of the report's advisory group.
David Fleming, Fellow, Motu Economic and Public Policy Research, comments:
"The Our Land 2018 report just released by MfE and StatsNZ is a key document that will enable us to better understand where New Zealand stands in terms of challenges and pressures that our environment is facing. As highlighted in the summary video of the report, biodiversity in New Zealand is in danger. Soils and water streams are increasingly being menaced by human activity.
"In order to better confront these challenges, the country needs to build more and better data sources on land use activity, resources use and condition. Without consistent national integrated data sources, it will be very hard to track future environmental conditions and the effects of policies or programs intended to reduce human impact.
"One shocking example in New Zealand is the shocking lack of rural waste data. As pages 65-67 of the report explains, limited data on waste disposal impedes any assessment of the scale of the issue, let alone our ability to track any change. Better records and tracking of waste disposal is key to understand the risks that waterways, soil, air and towns face, especially given an expanding industry known for generating important volumes of non-natural waste such Dairy (the report links to data estimating that dairy farms in Canterbury produce, on average, 9 tonnes of waste per year, excluding animal remains). 
Continue reading "MfE reports on changes to NZ's landscapes – Expert reaction"