At the Science Media Centre, we've seen it all when it comes to science stories in the media – some great journalism and some reporting disasters.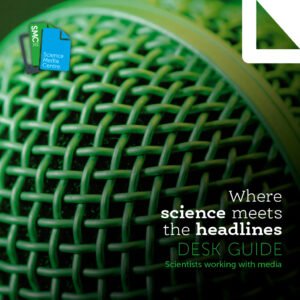 Helping journalists do a better job of covering science is at the core of what we do. But we have found that the key to quality media reporting on science is the ability of scientists to communicate effectively.
Most journalists have a simple aim when they interview a scientist – to get a clear explanation of new research or informed commentary on a breaking news story. The better you as a scientist can meet this need, the better the results will be when the story is published.
The Desk Guide for Scientists: Working with Media covers just about everything you need to know about working with the media.
From preparing your messages and working with your comms team, to engaging in social media and blogging, the Desk Guide lays out what our experience shows works.
There's a section on dealing with contentious science because it's on these types of issues that the media will need you the most. The centre spread checklist will help you plan for and get through a media interview.
You can download a PDF of the Desk Guide, read it as an ebook, or request hard copies to be sent to you. We have also provided the information on our website, via the links below.