We recognise that interacting with the media can be daunting and time consuming, but there are real benefits to engaging with the media. We've put together a number of resources that can help you that can also be downloaded as a PDF.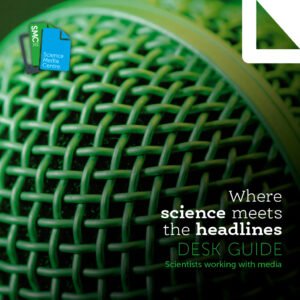 If you are comfortable and effective in front of media you will be better able to explain your research and its significance to a wider public, making it relevant to their everyday lives.
You can become a voice for research on important issues, using evidence to help inform public opinion.
You can share your passion for research with audiences you would not otherwise reach, and inspire young people to become scientists and researchers.
Beyond this, practical skills gained from working with media can be put to immediate use to improve grant applications, public lectures, stakeholder briefings, interactions with investors, collaborators and students, as well as other forms of outreach.
International surveys¹ show scientists consider the impact of their media interactions on their career generally to be mostly positive, neutral or balanced, but hardly ever negative.
TIP: You are not alone – your organisation's communications team, or the Science Media Centre can help if you need advice about working with the media.
1. Peters, 2012, Gap between science and media revisited: Scientists as public communicators. Proceedings of the National Academy of Sciences, vol. 110, issue Supplement_3, pp. 14102-14109
Back to Working with media