The UK House of Commons has voted in favour of a law allowing the creation of embryos where DNA from a fertilised or unfertilised egg is transplanted to a donor egg to avoid certain inherited diseases.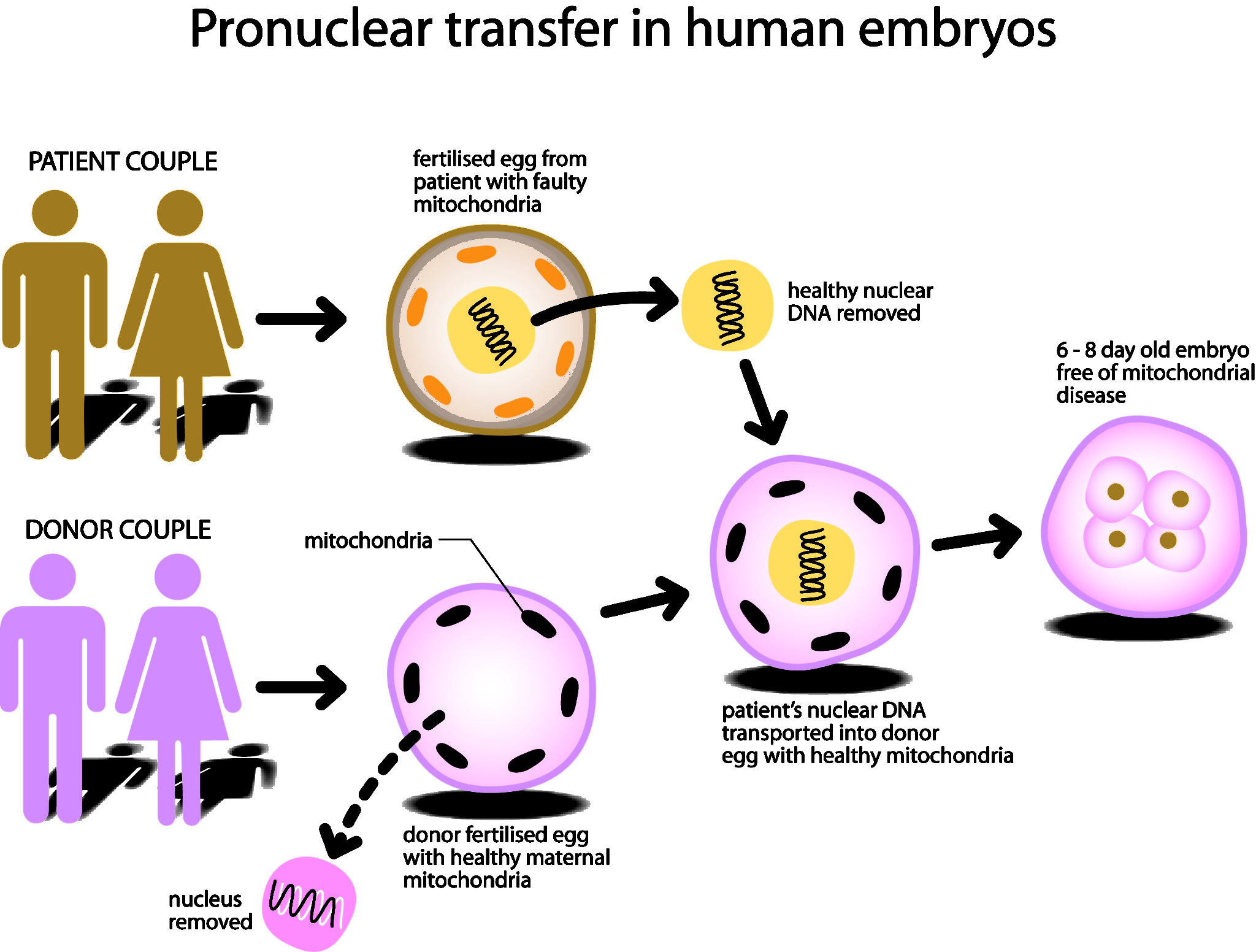 In a free vote, 382 MPs were in favour and 128 against the process that allows women carrying defective DNA in their mitochondria (small energy-generating structures in cells) to have children without passing on the mutations. Mitochondrial diseases arising from defective DNA can lead to brain damage, muscle wasting, heart failure and blindness.
The technique approved by the House of Commons uses a modified version of IVF (in-vitro fertilisation) to combine the two parents' DNA with the healthy mitochondria of a donor woman. The DNA-containing nucleus of the patient's egg is transferred to an empty or 'enucleated', donor egg with healthy mitochondria.
A further vote is required in the House of Lords.
Read more coverage on BBC News or New Scientist.
You can read more about mitochondrial diseases and donation in this SMC UK fact sheet.
Our colleagues at the UK SMC collected the following expert commentary. Feel free to use these quotes in your reporting. If you would like to contact a New Zealand expert, please contact the SMC (04 499 5476; smc@sciencemediacentre.co.nz).
Dr Tony Peatfield, Director of Corporate Affairs at the Medical Research Council (MRC), said:
"It is very pleasing to see this next step in ensuring that patients can benefit from many years of basic research; it is a good example of how long-term investment in a difficult area of science can deliver potentially huge benefits for families."
Dr Dusko Ilic, Reader in Stem Cell Science, King's College London, said:
"Our civil duty is to help families with these devastating diseases if we can.  The procedure is reasonably safe to go ahead with."
Prof Darren Griffin, Professor of Genetics, University of Kent, said:
"This resounding result is a victory for common sense and will help keep the UK at the cutting edge of reproductive medicine.  It clearly demonstrates that the detractors had little case to answer.  Families at risk of transmitting these debilitating diseases not have a glimmer of hope."
Prof Adam Balen, Chairman of the British Fertility Society, said:
"The British Fertility Society is delighted with the positive outcome of the vote in the House of Commons allowing the use of a pioneering therapy that has been developed in Newcastle to help treat families who are affected by the devastation of inherited mitochondrial disease."
"The treatment, which involves eggs donated from a healthy woman and the transfer of the fertilised nucleus with the genetic material from the mother and father of the affected family, will be carefully regulated by the HFEA."
"We are very proud of the pioneering work of the team at Newcastle and wish them every success, as indeed we do to the families who are preparing for this revolutionary treatment."
Mr Alastair Kent OBE, Director of Genetic Alliance UK, said:
"This is excellent news and a triumph for common sense and proportionate regulation. This vote brings hope to the families who stand to benefit from the treatment. We look forward to the Lords confirming this decision and will eagerly await the first application come through for the HFEA's consideration this year."
Prof Dame Sally Davies, Chief Medical Officer & Chief Scientific Adviser, Department of Health (DH), said:
"I'm delighted that MPs have voted to approve these regulations and hope the Lords will do the same. Mitochondrial donation will give women who carry severe mitochondrial disease the opportunity to have children without passing on devastating genetic disorders. It will also keep the UK at the forefront of scientific development in this area."
Prof Doug Turnbull, Professor of Neurology, Newcastle University, said:
"I'm delighted for patients with mitochondrial disease. This is an important hurdle in the development of this new IVF technique but we still have the debate in the House of Lords, and importantly the licensing by the HFEA. Finally, I think the quality of the debate today shows what a robust scientific, ethical and legislative procedure we have in the UK for IVF treatments. This is important and something the UK should rightly be proud of."

Dr Gillian Lockwood, Medical Director of Midland Fertility and reproductive ethicist, said:
"This convincing vote in favour in the House of Commons for legalising mitochondrial replacement treatment is to be welcomed.  The Parliamentarians' ability to see  through the smoke screens of purported 'ethical slippery slopes' and 'designer babies' and offer hope to families afflicted with these cruel genetic diseases reveals a depth of compassion and courage that is a tribute to the Mother of Parliaments. We may look forward to a similar decision from the unelected Lords and hope that the religious interest groups there represented will not attempt to frustrate the will of the elected chamber. The scientists and clinicians who have developed this ground-breaking technique must continue to educate and reassure those who continue to have anxieties.  It is with great optimism that I look forward to the birth of the first baby girl to be born in the UK free from mitochondrial disease and from the shadow of transmitting the disease to her children."
Prof Robert Lightowlers, Director of Institute for Cell and Molecular Biosciences and Professor of Molecular Neuroscience, Newcastle University, said:
"A momentous day for parents in danger of transmitting disease-causing mitochondrial DNA defects. If the HFEA grants a licence, parents will soon have the choice of using mitochondrial replacement techniques."

Dr Jeremy Farrar, Director of the Wellcome Trust, said:
"Families who know what it is like to care for a child with a devastating disease are best placed to decide whether mitochondrial donation is the right option for them. We welcome this vote to give them that choice, and we hope that the House of Lords reaches a similar conclusion so that this procedure can be licensed under the UK's internationally-admired regulatory system. This is a vote of confidence in the patients, scientists, doctors and ethicists who have worked hard for a decade to explain this complex research to politicians, the public and the media, and in the exemplary process for reviewing scientific, ethical and public opinion led by the Human Fertilisation and Embryology Authority."
Prof Malcolm Alison, Professor of Stem Cell Biology, Barts and The London School of Medicine and Dentistry (QMUL), said:
"What a vote for common sense. Mitochondrial DNA is only 0.1% that of nuclear DNA, so it's 2.001 parents not 3. Moreover the mitochondrial genes essentially encode for proteins involved in cellular energy production, not obvious traits like hair colour or facial features, and that's why when they are faulty the diseases are so devastating."
Mr Robert Meadowcroft, Chief Executive of the Muscular Dystrophy Campaign, said:
"We have finally reached a milestone in giving women an invaluable choice, the choice to become a mother without fear of passing on a lifetime under the shadow of mitochondrial disease to their child. Today, MPs have responded to the broad public support for mitochondrial donation IVF, which follows years of ethical, scientific and public consultations.
"There are currently no means to treat devastating mitochondrial diseases, which can cause muscle wastage, loss of vision, stroke-like episodes and a premature death. Preventing inheritance, where possible, remains our only option, and that is why we have invested in and wholly support this pioneering technique.
"The next step is for us to make sure peers are armed with the full facts surrounding mitochondrial donation IVF ahead of a debate in the House of Lords. It is absolutely crucial that they fully understand what is at stake for women affected by this condition."
Prof Sir John Tooke, President of the Academy of Medical Sciences, said:
"I am delighted that MPs have voted to allow the introduction of mitochondrial transfer techniques into the clinic. These treatments could reduce the number of children born with rare mitochondrial diseases, and help dozens of families to lead happy and healthy lives.
"Today's vote is the culmination of many years of scientific and public debate. I thank the many scientists, clinicians and especially the patients and families affected by these devastating disorders for their invaluable contributions to the discussions."
Dr Mark Downs, Chief Executive of the Society of Biology, said:
"This development is intended to ensure that mothers who carry faulty mitochondria can have healthy children free from the devastating conditions caused by these particular defects. With any new technique, there will be uncertainty. However, taking this into account, the scientific community has made clear its support for the introduction of regulations which will facilitate treatment while carefully monitoring outcomes; we fully endorse this."
Prof Alison Murdoch, Head of Newcastle Fertility Centre at Life, Newcastle University, said:
"This is good news for progressive medicine. In a challenging moral field, it has taken scientific advances into the clinic to meet a great clinical need and Britain has showed the world how it should be done."
Ms Sarah Norcross, Director of the Progress Educational Trust (PET), said:
"The Commons' vote in favour of the Regulations now puts the onus on the House of Lords to do likewise so that families affected by mitochondrial diseases have the chance to access treatment in a carefully regulated environment."
Declared interests
Dr Tony Peatfield: The MRC supports the MRC Centre for Brain Ageing and Vitality in Newcastle.
Prof Darren Griffin: I am the Director of the Centre for Interdisciplinary Studies of Reproduction (CISoR) and thus work closely IVF clinics on joint projects.  None of these involve mitochondrial studies at present however. http://www.kent.ac.uk/cisor
Mr Alastair Kent: I am employed by Genetic Alliance UK, the national charity working to improve the lives of patients and families affected by all types of genetic conditions. We are an alliance of over 160 patient organisations. Our aim is to ensure that high quality services, information and support are provided to all who need them. We actively support research and innovation across the field of genetic medicine.
Policy and practice in generating resources to support the work of Genetic Alliance UK (including that carried out as part of our projects SWAN UK and Rare Disease UK) is determined by the Trustee Board of the Charity, the members of which are nominated and elected by the patient organisations which comprise Genetic Alliance UK's membership.
Having determined a strategy and a work plan Genetic Alliance UK then seeks resources to implement it from a wide range of potential funders including National Governments, the EU, the pharmaceutical and medical devices industry, the Medical Research Council, Wellcome Trust, The Big Lottery and others. Patient organisations also pay a subscription according to their size. Genetic Alliance UK does not accept unsolicited grants that are contingent on the organisation carrying out work on behalf of a third party that would be counter to the interests of patients and families with genetic disorders or which would hinder the effective delivery of the strategy endorsed by the Trustee Board.
Full details of our funding policy can be found here:http://www.geneticalliance.org.uk/ethicalcollaborationpolicy.htm
All our income is reported in our annual reports available here: http://www.geneticalliance.org.uk/annual-report.htm
I am invited to speak at a wide range of conferences and meetings on issues arising from my role as director of Genetic Alliance UK, the expenses for which are met directly or reimbursed to me by the organisers. These include public, private and voluntary sector bodies in the UK and internationally. I am also the Chair of the UK Rare Diseases Forum, the body set up by the four health ministers of the UK to monitor implementation of the UK Strategy for Rare Diseases and to report on progress every two years, and a member of NHS England's Rare Disease Advisory Group.
Prof Doug Turnbull receives funding from the Wellcome Trust and Muscular Dystrophy Campaign for research into mitochondrial donation techniques.

Dr Gillian Lockwood: I am medical director of an IVF clinic which sees NHS and private patients. I don't envisage ever treating patients with this therapy as it should be restricted to specialist centres (where other clinics could refer: like pre-implantation diagnosis)

Prof Robert Lightowlers: I am a member of the Wellcome Trust Centre for Mitochondrial Research and so we are sponsored by them to perform research in this area.

Dr Jeremy Farrar: The Wellcome Trust funds the Wellcome Trust Centre for Mitochondrial Research – http://www.newcastle-mitochondria.com/

Mr Robert Meadowcroft: The Muscular Dystrophy Campaign does not have a financial interest in mitochondrial research.  We have been a long-term funder of research into mitochondrial disease, conducted by Professor Doug Turnbull and his team at Newcastle University.  Professor Turnbull was appointed a Vice President of the Muscular Dystrophy Campaign in 2013, an honorary position which carries no payment or reward."

Prof Alison Murdoch: I work at NFcL that will be applying to the HFEA for a treatment licence to carry out these procedures in due course.