Traces of the agricultural compound DCD in New Zealand milk are not a direct cause for concern, says an agriculture expert.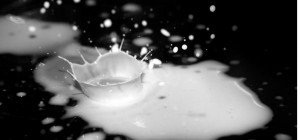 Small amounts of dicyandiamide (DCD), a compound used to prevent nitrogen leaching in pasture, are detectable in New Zealand milk products.
Following concerns that the presence of trace amounts of DCD in milk could negatively affect international milk sales, some New Zealand suppliers have taken steps to end or limit the use of DCD on dairy farms.
According to a release from the Ministry of Primary Industries: "Although there is no food safety concern, even at the low levels detected international regulators and customers are likely to view DCD residues as a contaminant. As there is no international standard for DCD in food any residue could be considered unacceptable to New Zealand's trading partners."
Read more at Radio NZ, National Business Review or TVNZ News.
The Science Media Centre sourced the following expert commentary. If you would like to contact a New Zealand expert, please contact the SMC (04 499 5476; smc@sciencemediacentre.co.nz).
Prof Jacqueline Rowarth, Professor of Agribusiness, University of Waikato, comments:
"Salt will kill you before DCD does…and this fuss is a classic example of science (i.e DCD can be measured) being used without understanding.
"Experiments with mice indicate that the lethal dose (LD50) for table salt is 4 grams per kilogram of body weight. For DCD it is over 10 grams per kilogram.
"Considerable research at Lincoln University has shown that the use of DCD can reduce nitrogen leaching. The general recommendation is that soils under pasture need to be below 12 degrees Centrigrade – this limits its use in the north island and in spring/summer/autumn in the south island.
"Research for the Waikato dairying region by Dr Graeme Doole, University of Waikato, has shown that 'the net benefits associated with DCD are positive but are likely too low to warrant their wide-spread adoption for improved environmental outcomes without direct regulation'.
"The problem is expense versus income through milk. Ministry of Primary Industries Farm monitoring reports indicate that farm incomes are already tight – Statistics NZ reports that food prices have gone up half as much as production costs.
"But overall, the fertiliser companies and Fonterra have protected NZ's brand by responding to the concern – now we need high-level support for the activities of the three companies and New Zealand farmers."