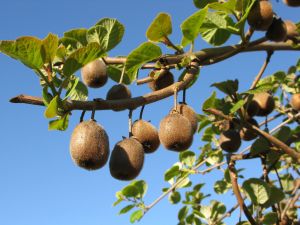 Both local and national eyes are closely trained on kiwifruit orchards in New Zealand, with the news that some have been infected by Pseudomonas syringae pv actinidiae (PSA), a vine-killing disease.
The disease is caused by a bacterium (PSA) which can be spread through the air and on equipment.  Fears have arisen that the infection could hurt the Kiwifruit industry, which accounts for 2.5% of NZ's exports.
Click here for a collection of research papers related to PSA, bacterial canker in kiwifruit, their characteristics, spread and methods to limit and/or eradicate them.
Media coverage: (oldest first)
8 Nov
Business Day: First victims of kiwifruit bacteria
NBR: Billion-dollar kiwifruit industry faces killer threat 8
NZ Herald: Hundreds of millions of kiwifruit dollars at risk
ONE News: Tests confirm kiwifruit bacteria in NZ
9 Nov
Radio NZ: Tests confirm kiwifruit disease
Wall Street Journal: New Zealand Kiwi Industry Threatened By Disease
Newstalk ZB: Only one site infected
NZ Herald: Infected kiwifruit vines may need to be burned – Zespri
Sydeny Morning Herald: Zespri eyes options as kiwifruit struck
ONE News: Infected kiwifruit orchard's location a secret
Business Day: Kiwifruit fears confirmed
TVNZ/NZPA: 'Too soon to panic' – Zespri boss
NZ Herald: Carter urges caution over kiwifruit disease
San Francisco Chronicle: Bacteria May Affect As Many as 18 New Zealand Kiwifruit Orchards
Dominion Post: Fears grow over kiwifruit disease
ABC News: Disease threatens NZ's kiwifruit industry
NZ Herald: Second Te Puke orchard infected, says MAF
NZ Herald: Second kiwifruit orchard quarantine
NZ Herald: Kiwifruit probe turns to length of Psa infection
Radio NZ: Dozens of orchards being checked for disease
Close Up: Is this the end of the kiwifruit industry?
BusinessWeek: U.S. Halts Imports of N.Z. Kiwifruit Nursery Stock
10 Nov
NBR: Italians impound NZ kiwifruit as disease spreads
BusinessDay: Underreaction could see kiwifruit disease spread
NZ Herald: Psa confirmed at second kiwifruit orchard
Checkpoint: Second kiwifruit orchard now under quarantine
Checkpoint: Kiwifruit growers want MAF to name affected orchards
ONE News/NZPA/Newstalk ZB: Third kiwifruit orchard quarantined
3 News: Third kiwifruit orchard investigated
The Telegraph: Virus threatens New Zealand's kiwi fruits
Morning report: MAF says eradicating kiwifruit disease may not be possible
Morning Report: MAF says science will guide kiwifruit disease response
Morning Report: NZ could learn from Italy's kiwifruit devastation
Morning Report: Zespri to possibly identify disease infested orchards
Radio NZ: Growers concerned infected vines not destroyed
Otago Daily Times: Imports of NZ kiwifruit cuttings banned
Checkpoint: Minister briefed about vine disease on tour of kiwifruit region
The Press: Vine-killing canker spreads
11 Nov
NZ Herald: Kiwifruit vine-killing disease crisis worsens
Morning Report: Kiwifruit grower says PSA appears well-established
Morning Report: Diseased kiwifruit orchards to be sprayed today
Business Day: Kiwifruit spraying put on hold
TV3/NZPA: Kiwifruit spraying delayed
ONE News/NZPA: Copper spraying delayed as vines checked in other areas
NBR: MAF delays spraying as kiwifruit disease outbreak spreads
Morning Report: Fears kiwifruit vine infection has spread
Otago Daily Times: More checks for bacteria in kiwifruit orchards
Dom Post: Kiwifruit a victim of monoculture farming
Waikato Times: Waikato on disease alert
12 Nov
BusinessDay: Canker 'not as bad as in Italy'
RadioNZ: Kiwifruit exports uninterrupted despite vine disease
Checkpoint: Copper spraying to begin at kiwifruit orchards
Morning Report: Zespri expects PSA test results back today
Morning Report: Kiwifruit leaders no closer to figuring out PSA
NZ Herald: Fears bees may help carry bacteria to green kiwifruit
TVNZ/NZPA: Kiwifruit sales stay up despite vine crisis
NZ Herald/NZPA: Relief kiwifruit exports not yet blacklisted
13 Nov
NZ Herald: Fourth kiwifruit orchard infected
NZ Herald: Billion-dollar crisis in the orchard
Nelson Mail: Region's kiwifruit growers vigilant
NZPA/Stuff: Kiwifruit company wants complete cure
NZ Herald: Hairyberry has strength to conquer disease
14 Nov
RadioNZ: Eight kiwifruit orchards have vine disease
NZ Herald: Call to kill PSA
Sunday Star Times: Kiwifruit growers hang on for warm fuzzies
ONE News/NZPA: Crisis meeting held over kiwifruit
Newstalk ZB: 11 Kiwi orchards under quarantine
15 Nov
Checkpoint: Update on kiwifruit disease
RadioNZ: Kiwifruit grower hopes PSA panic will die down
Nine to Noon:  Decision on how to tackle kiwifruit vine disease PSA
Bay of Plenty Times: Kiwifruit vines dying
BusinessDay: Strategy to attack kiwifruit disease plotted
TVNZ/ONE News: Minister being briefed on eradication of kiwifruit disease
16 Nov
NZ Herald: Grower begins to destroy kiwifruit
Business Day: Kiwifruit canker vines oozing red liquid
NBR: Control of kiwifruit canker could cost millions – Govt
17 Nov
NewstalkZB/ONE News/NZPA: Disease found in orchards outside Te Puke
Morning Report: Kiwifruit industry meet to finalise plan to tackle vine disease
3 News/NZPA: Pollen in the cross-hairs as new test check for PSA
BusinessDay: Kiwifruit bug spreads
Waikato Times: Kiwifruit orchard hygiene 'crucial'
18 Nov
Morning Report: Scientists say PSA likely to be recent introduction
The Press/Nelson Mail: Kiwifruit disease found in Nelson
ONE News: Up to $50m pledged to tackle kiwifruit disease
NZ Herald/NZPA: Psa outbreak will cost $75m, Govt predicts
Checkpoint: Kiwifruit growers vote on Govt's PSA offer
Checkpoint: Prime Minister speaks on kiwifruit rescue package
19 Nov
RadioNZ: Delaying removal of infected vines costly
Dominion Post: Disease unlikely to raise kiwifruit price
Morning Report: Farmers say imported pollen makes New Zealand vulnerable
BusinessDay: Kiwifruit disease confirmed in 51 orchards
20-22 Nov
RadioNZ: Marketer urges caution over kiwifruit pollination
RadioNZ: Kiwifruit growers urged to have pollen tested
Morning Report: Artificial pollination not yet linked to PSA spread
NZ Herald: Pollen import ban sought to save kiwifruit industry
23 Nov
Morning Report: Incinerator not long term solution for infected kiwifruit
RadioNZ: Deep burial considered for diseased kiwifruit vines
The Press: Further probe into imported kiwifruit pollen
[please note: this list is indicative only]