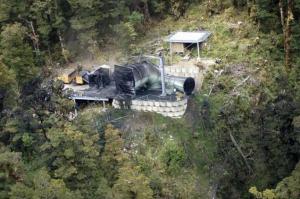 On Friday evening, the Pike River mine outside the South Island town of Greymouth experienced an explosion which trapped 29 miners below the surface.
The explosion looks to have been due to a methane gas buildup, making rescue attempts difficult, both for fear of setting off a second explosion, and due to potentially high levels of toxic carbon monoxide.
Professor Bruce Hebblewhite, head of the School of Mining Engineering at the University of New South Wales, has been explaining the dangers inherent in an attempts to rescue the men.
Media coverage:
NZ Herald: Mine expert: No urgent rush to reach miners
Sydney Morning Herald: NZ mine rescue 'high risk': expert
Sunday Star Times: Fear of more blasts keep rescuers on surface
The Telegraph: New Zealand mine explosion: ready to go in, but hampered by fear of the unknown
Sydney Morning Herald: Safety standards should have guarded against accident, says engineer
The Independent: Deep in a mine, the phone rings unanswered
Stuff: Geologist warned of danger of explosion three years ago
Morning Report: Mining expert urges rescue caution
ABC Sydney: Drilling starts to reach trapped miners
RadioLive: ???Pike River rescuers right to be careful – expert
RadioLive: 'Limbo' getting harder to cope with – mayor