The Labour Government's first Budget focuses primarily on health, housing and education. New research and innovation initiatives include funding for the R&D tax credit announced last month, a new Green Investment Fund to help the transition to a low-carbon economy and funding towards healthier homes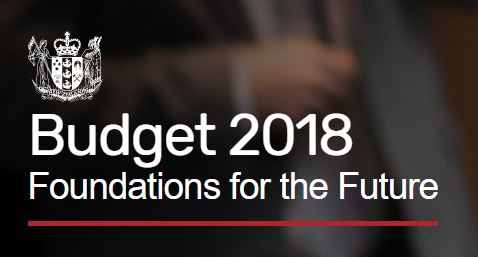 This page will be updated with any new announcements and expert reaction.
While the big announcement for the science sector was last month's call to introduce a research and development tax incentive in 2019, the Science and Innovation sector mostly retains core funding with boosts in the following areas:
Several pre-budget announcements were made earlier in the month, including:
For further info, MBIE have a helpful breakdown of science funding, DOC has outlined what the changes to their funding looks like in real terms, and you can play around with how funding has changed over time using the NZ Herald's data visualisation tool built by Keith Ng.
The SMC collected the following commentary from key players in the following areas:
– Research and Development
– Green Investment Fund
– Warm, dry homes
– Overseer
Research and Development
Professor Rod McNaughton, Deputy Dean, University of Auckland School of Business, comments:
"Today's budget held few surprises in the Business, Science and Innovation portfolio. The government had already signalled its focus on lifting R&D spending, currently around 1.3% of GDP, to 2% of GDP over the next 10 years. The Labour-led coalition is betting on the introduction of an R&D tax credit of 12.5% to help stimulate business investment.
"A six-week public consultation on the new R&D credit was launched last month, in a bid to have the tax credit ready in a year's time. Today's announcement reiterated some of the key elements of the policy outlined in the consultation document, especially the rate, and that the credit will be available to firms spending more than $100,000 a year on R&D.
"The introduction of the tax credit will likely be well-received by industry, but expect debate about whether the government has the design of the programme right. The 12.5% rate is lower than the 15% rate when NZ last had an R&D tax credit in 2008/09, and there are bound to be issues around the application of the "science test" for eligibility, especially for software firms, and questions about whether the $100,000 expenditure threshold is unfair to start-ups.
"The budget announcement forecasts the cost will be $70 Million in the current year, rising to $350 Million per year in 2021/22. However, this is partially offset by reductions in targeted business R&D funding, which co-funds R&D investment by firms. Getting the balance right between the use of tax credits and targeted grants is important, and as yet, we don't have a clear picture of how the government sees these two policy tools working together.
"It is also important to keep in mind that the majority of R&D spending goes into salaries; so the capability of managers to innovate, and labour force issues around education, training, and attracting the best and brightest talent to make New Zealand their home are also critical to lifting NZ's game in R&D."
No known conflicts of interest.
Professor Giselle Byrnes, Assistant Vice-Chancellor, Research, Academic & Enterprise, Massey University, comments:
"Notwithstanding the huge focus of this year's budget on health and non-tertiary education, the boost in research and development tax credits is welcome. Together with the focus on driving innovation in the regions, industry has good incentives to partner with universities, as the powerhouses of applied research, to address real-world problems.
"While it is disappointing that the tertiary sector as a whole is largely overlooked in this budget (the government has spent heavily on rolling out the free fees policy from this year), and while applied research is clearly valued by industry and researchers alike, there is still a need to support discovery and blue sky research, such as that supported by NZ's Marsden Fund."
No conflict of interest.
Professor Shaun Hendy, Director of Te Pūnaha Matatini, comments:
"This budget contains few surprises for science and innovation. Labour campaigned on the re-introduction of tax credits, and the Labour-led government made it clear months ago that this would be a priority for this budget. There has been considerable doubt about whether the previous government's direct R&D grants to business administered by Callaghan Innovation were working so a change in approach was probably needed, but I don't think the R&D tax credit alone will be enough to lift our woeful business R&D investment.
"A potential disadvantage of the tax credit to the government is that the better it works, the more it will cost them, and this may mean we are in for fairly conservative series of science and innovation budgets until the effects of the tax credit on the government's coffers are better understood. Nonetheless, the government will need to keep thinking creatively about its science and innovation policies if it is to meet its goal of lifting our R&D investment to 2% of GDP.
"One issue that desperately needs further attention is post-doctoral fellowships. Currently, the government subsidises PhD students but not post-doctoral fellows, and this creates an imbalance in our research workforce. Furthermore, after receiving incorrect advice from officials, the previous government axed a scheme that supported around 90 fellowships across the country. It then refused to engage further on the issue, with the word 'post-doctoral' completely disappearing the final version of the National Statement of Science Investment. Labour campaigned on reintroducing the scheme, so it is disappointing to not see it addressed in this government's first budget, but I would hope we will see an initiative in this area as soon as possible.
"However, I am very happy to see continued support of the National Research Information System. Remarkably we currently have very little evidence about what policies or funding mechanisms work best in our research system, and this is partly because of poor data collection practises across the sector. The previous government agreed to support a national science and innovation data system to track the progress of research and researchers across the sector and I am very pleased to see that it will continue to be developed under this government."
No conflict of interest.
Associate Professor Nicola Gaston, co-director, The MacDiarmid Institute for Advanced Materials and Nanotechnology, comments:
"This year's budget reminds me of nothing else so much as Sir Paul Callaghan, seven or eight years ago, standing up in a room full of scientists and asking us to calculate how many hip replacement operations could be funded by the sums of public money invested in our research. It's a sobering calculation for any of us, but a reason to respect other calls on the public purse rather than to undermine the case for research funding.
"Science and research are not direct winners in this budget: the targeted increase to 2% of GDP in science funding has been previously signalled. There are however elements, such as the increased conservation spend at DOC and the Green Investment Fund, that will impact on environmental science and related technologies. The R&D tax credit is one of the biggest changes; however the impact of it will likely be muted in the first instance, as it replaces the previous Callaghan Growth Grants: it is one of the elements of this budget that will most bear watching.
"One positive sign is the specific direction of capital expenditure towards revitalisation of the Measurement Standards Laboratory: in a sense" this is business as usual, but underinvestment in infrastructure is one of the ways in which our science system first loses its international competitiveness. And on the infrastructure side, another thing to note is the investment in the National Research Information System: we have seen the administrative cost of our research organisations expand in recent years, due to the establishment of the National Science Challenges, the continuing low success rates in contestable funding applications such as the Marsden Fund, and increased emphasis from funders on the reporting of 'impact', which is not a simple thing.
"While it is a positive move to be scientific about analysing the relative effect of different funding mechanisms, there is a real concern that this eats up a large part of baseline funding if the onus is put on researchers to spend significant amounts of time on reporting.  It is therefore to be hoped that this investment is part of the solution in terms of streamlining reporting requirements on researchers."
Conflict of interest statement: Co-Director of the MacDiarmid Institute for Advanced Materials and Nanotechnology which is funded by the New Zealand Government through TEC, as a NZ Centre of Research Excellence.
Anthony Scott, chief executive, Science New Zealand, comments:
"The investment in science research announced today will help protect the environment, grow New Zealand's national and regional prosperity, and enhance New Zealand's contribution to global issues such as climate change, food security and digital science.
The R&D Tax Credit, at 12.5% relief for companies' spending over $100,000 on R&D per annum, will amplify investment of science-based innovation in both existing and new sectors.  It signals that innovation can happen anywhere and produce benefits beyond any single company.
The Green Investment Fund will complement this by accelerating private sector investment into new strands in the economic matrix.  These are just as likely to emerge from existing areas of economic strength as CRI science research opens new opportunities for innovators. The Provincial Growth Fund also recognises that great ideas can be developed locally and add to the national wealth by building regional prosperity and wellbeing.
The additional funding for environmental protection, pest control, biosecurity, and the primary sector is essential to protecting and growing the economic base throughout the country.  These areas are deeply personal to New Zealanders, and part of our national identity.   Each area is producing science-based solutions and innovations that are being translated into global opportunities for New Zealand firms.  CRIs partner with firms around New Zealand and know the potential is unlimited.
The science cooperation agreement with Singapore highlights that New Zealand is a highly-valued niche player.  We must leverage benefit from that expertise and our global connectedness. Data-based science is key to the future of science, and the future foods work promotes the skill and track record of New Zealand in food innovation.
The National Research Information System, receiving $10.1 million over four years, is a significant initiative.  We are working with the Ministry of Business, Innovation and Employment (MBIE) on this project. It should improve information on New Zealand's capabilities, streamline reporting and lower compliance costs so that more of the research dollar is spent on research that makes a difference for New Zealand.
Dr Martin Atkins, Senior Research Fellow, Energy Research Group, University of Waikato, comments:
"Until the exact design and criteria for the Green Investment Fund is known it is unclear exactly how much impact it will have on the economic transition to a low-carbon economy. There is already a big shift to green investment in the private sector so it remains to be seen if the government through the Green Investment Fund can pick winners and generate the emissions reductions and new jobs promised."
No conflict of interest.
Dr. Anna L. Berka, Research Fellow, Energy Centre, comments:
"While the budget does set aside funding for all the items set out in the campaign, including an independent Climate Change Commission, ETS reform and a Zero Carbon Act, I'm afraid that a 100m public loan facility will not cut the mustard: it will simply not cover the cost of the raft of measures required around R&D and pre-commercial support for areas of focus: transport, heat, farming, land use and the bioeconomy (as for instance signalled in the Low Emissions Economy report). It remains to be seen as to whether some of the budget set out in provincial growth fund (1b$!) and for biodiversity and forestry can serve towards these purposes.
"The provincial growth fund above all is disappointing in scope; an enormous pot of money for a tree planting programme and a rail project. It seems they have put little thought in how to build and scale existing regional capacity, or how to create synergies between regional development, climate change and conservation objectives."
Associate Professor Anita Wreford, Lincoln University, comments:
"The establishment of the Green Investment Fund is an important move to indicate commitment and support for investment in low-Carbon industries, businesses and technologies. This is important to stimulate confidence, growth and development in these areas as New Zealand transitions away from a fossil-fuel economy, in order to meet its commitments under the Paris Agreement and address climate change.
"However, while a dedicated fund is important, it is also critical that climate change is considered and integrated across all policy areas – such as housing, transport and infrastructure.  For example, the Government could show leadership by investing in low-Carbon construction materials and design in the 1600 affordable homes per year also promised in its Budget."
No conflict of interest.

Warm, dry homes
Professor Philippa Howden-Chapman, He Kainga Oranga/Housing and Health Research Programme, University of Otago, Wellington, comments:

"New funding of $142.5 million over four years for retrofitting insulation and installing heaters will be very welcome for around 50,000 low-income home-owners, though this number of households who will benefit is less than a fifth of the estimated 900,000 households, who currently live in uninsulated homes. The previous ECCA-funded programme Warm-Up New Zealand Programme had been irrationally run down, no longer had a dedicated team to promote and audit it, and was due to end in the middle of this year. This would have left the community energy networks, with dedicated and trained insulation teams, who retrofit insulation in existing homes, in a precarious financial position.
"This budget allocation prefigures the well-being framework which will be central to the 2019 budget.  Fittingly, while the policy was announced by the Minister of Finance in his budget,  following the Labour and Green Confidence and Supply Agreement, the press release came from the Hon Megan Wood, Minister for Energy and Resources and the Hon James Shaw, Minister for Climate Change. This strongly evidence-based policy has a benefit-cost ratio of around 6 to 1, particularly for children and older people, who spend more time indoors. Not only does retrofitting insulation and heaters improve health and well-being, it prevents premature mortality in older people, reduces energy consumption, contributes to a low-carbon economy and creates sustainable employment.
"The budget policy is targeted at low-income home-owners. However, rental properties are in poorer condition and less likely to be insulated than owner-occupied homes. While landlords have had targeted funding for a number of years, they have been very slow to take up the 50 percent government subsidy. The Healthy Homes Guarantee Act now requires rental properties to be insulated by mid-2019.  In order that renting households do not become relatively worse off, it will be important for landlords to be closely audited to ensure they comply with the new law. More money will be needed to ensure that all New Zealand houses are warm, dry and safe."
Conflict of interest statement: He Kainga Oranga provided evidence-base for policy.
Prof Arthur Grimes, Professor of Wellbeing & Public Policy (Victoria University of Wellington); & Senior Fellow, Motu Research, comments:
"It is reassuring to see that more houses will be insulated under this new insulation programme. The published research shows considerable health benefits of insulation from past insulation programmes such as the previous government's Warm Up New Zealand: Heat Smart programme.
"It is also reassuring to see that the programme is initially prioritising house insulation over heating programmes. While both aspects are important, the evidence supports this prioritisation choice."
Conflict of interest statement: My son (Alex Tarrant) is Grant Robertson's press officer.
Professor Troy Baisden, Chair in Lake and Freshwater Science, University of Waikato, comments:
"Budget 2018 includes the announcement of $4 million over 5 years for the Overseer software used to track farm nutrient management. This is a small amount of funding to address a very large problem. As prominent business journalist Rod Oram has commented, the funding appears too small to deliver what's really needed. So what is Overseer, and what can we infer from the announcement?
"Overseer is the main computer model in wide use to estimate nutrient losses from land in response to agricultural management, so that regional councils can implement limits on nutrient contaminants reaching our freshwater. Excess nutrients cause unpleasant algal and weedgrowth in waterways, causing harm to fish and other aquatic organisms. Use of Overseer has become standard in some catchments, with the Lake Taupō being the first, for a few years now, and appears likely to expand to most of our agricultural regions.
"New funding appears sensible keep Overseer moving forward. The software needs to be able to keep up with current agricultural land management as new data becomes available, as well as innovative practices designed to reduce nutrient losses. If experts, farmers and communities don't have faith in Overseer to give correct results for current or proposed management, it won't help us solve water quality problems. The Government investment in the Overseer tool shows the Government is serious about taking a stake in quantifying the environmental impact of agriculture. The announcement as part of the Budget shows this more strongly than the amount of money.
"This funding announcement appears unlikely to enable Overseer to keep up with new demands. For example, Overseer could expand its scope to help with the Productivity Commission's recent suggestion that the tool can also be used to estimate agricultural greenhouse gas emissions so that agriculture can begin to be included in the Emissions Trading System.
"We still need to consider common criticisms of Overseer, however.
"First, can Overseer be made more transparent so independent scientists can understand the model and verify results, including suggesting steps to improve the model where model output doesn't match up with data?
"Second, given that Overseer's primary use is environmental regulation, should the software continue to be wholly owned by three entities aligned with primary production: the Ministry of Primary Industries, AgResearch and the Fertiliser Association? Can part ownership be transferred to the Ministries of the Environment and Conservation, and/or regional councils?
"Last, Overseer tells us how much nitrogen or phosphorus leaves the plant root zone, but not how much ends up rivers and lakes, or when. Would a better model link agricultural management to freshwater impacts, including the role of wetlands and riparian zones in helping to remove nutrients and sediment?
"There are indications of progress on the first, but a long way to go, and there could still be benefits from competing approaches that tackle these and other issues differently that we will if Overseer remains the only viable tool available for environmental regulation. Perhaps the Government will invest more when the shape of solutions, going beyond the Overseer software, is clearer."