A new report from the Parliamentary Commissioner for the Environment, Jan Wright, has called for New Zealanders to work together to tackle the "complex problem of the biological greenhouse gases from agriculture".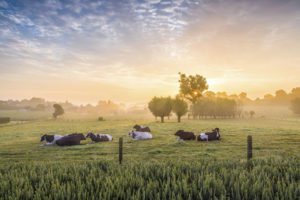 Methane and nitrous oxide form about half of New Zealand's greenhouse gas emissions, but there have been many false starts in dealing with them and controversy over their continued omission from the Emissions Trading Scheme. Wright says there are no 'silver bullets' for dealing with the gases, "but we do need to do what we can to curb these emissions – and we need to start now".
The SMC gathered expert reaction on the report, feel free to use these comments in your reporting. The report and accompanying documents are available on scimex.org for registered journalists, or on the PCE's website.
Professor Louis Schipper, University of Waikato, comments:
"As usual for PCE reports, the problem and the science are eloquently described and the text remains rigorous and accessible. This report clearly lays out the case that New Zealand's rather unique greenhouse gas emissions require bespoke solutions. The report argues that even if we reduced much of CO2 emissions from fossil fuels, we still would have relatively high emissions due to nitrous oxide and methane primarily derived from agriculture. To deliver solutions to this problem we need tailored research on New Zealand farms with New Zealand farmers.
"The overview of the production of methane and nitrous oxide demonstrates that the emissions of both these gases are inefficiencies of the soil and animal systems and so reduction has the potential to capture these valuable resources. Over the last few decades, we have improved our farming practices and this lowered the amount of greenhouse gas produced for every kg of milk or meat. And yet we still need to decrease our total greenhouse gas emissions.
"Before describing some New Zealand examples of mitigation strategies being developed, the report describes the critical characteristics of what might be considered successful mitigation strategies. These characteristics include the need to be practical, cost effective and nationally-applicable while avoiding risks – either perceived or real. It is recognised that finding a silver bullet mitigation strategies and continuous incremental gains are equally important.
"This report does a nice job highlighting some specific New Zealand studies at different stages of development that are making good progress on finding solutions. These case studies are also a realistic assessment of success and failure. Use of case studies draws people in with practical solutions rather than dense scientific explanations. This approach allows the discussion to move beyond 'it's all too hard, so why bother' to considering interesting leads. Some of these case studies nicely describe the tradeoffs that need to be considered where a management practice may lead to reduction in say, methane but lead to an increase in nitrous oxide emissions. Scientists will need to continue to look to resolve these frustrating trade-offs. The case studies clearly demonstrate that we will be faced with many good ideas that fail but we only need a few successes to make real progress.
"Table 9.1 is fascinating: an estimate of the number of hectare of native forest to offset emissions from animals. I had wondered about this but never done the calculations.  Must remember this is newly planted native forest and not existing native forest. The key here is that this planting could buy us time to get other strategies in place."Absent perhaps is a greater discussion of the role of soils in storing carbon and removing  carbon dioxide from the atmosphere, briefly touched on in section 9.4 (less than a page). Ultimately, we must remove a large amount of carbon dioxide already in the atmosphere and still increasing, even if we stop methane and nitrous oxide emissions. As the PCE states: "it is not possible to stop temperatures from continuing to rise with stopping net carbon dioxide emissions". [section 3.4] "Net" means either reducing losses of carbon or getting some gains. Conversion of this carbon dioxide to soil organic matter is one way and a focus globally in the international "4 per mille initiative". The research is in its early days in New Zealand and very challenging work."
Note: Professor Schipper leads a team investigating the potential for soil organic carbon to capture atmospheric CO2 as a means to reduce overall greenhouse gas emissions.
Dr Suzi Kerr, senior fellow, Motu Economic and Public Policy Research, comments:
"It is excellent to have a clear careful presentation of the different aspects of the science in this complex area which is one of the things that the PCE does so well.  I agree with all the actions she suggests.
"For the sake of farmers and rural communities as well as for the climate, we need to start making a gradual transition now toward new land uses – including new types of food.  On land where sheep and cows continue to be grazed, we need to move toward low emission practices including new technologies as they become available.  Our long term goal on that land is to produce ultra low emission dairy and red meat.
"Many farmers are aware of these issues and deeply concerned about the resilience of their sectors.  Including biological emissions in the ETS, even if it only slightly increased the cost of dairy and red meat production, would send a signal to the wider farming community and those who support them in education, research and industry that it is time to move their attention, energy and creativity toward transition.
"Inclusion in the ETS could be done with a focus on helping the rural community make a gradual transition, not with expectations that the relatively small group of farmers would bear a significant part of the cost of New Zealand's Paris commitment.  In the short term, trees – including natives – are the main way that the rural sector can help achieve our Paris goals but we can't wait to start action on the longer game of reducing nitrous oxide and methane."
Note: Motu Economic and Public Policy Research prepared two reports that informed the PCE's report.
The New Zealand Agricultural Greenhouse Gas Research Centre (NZAGRC) provided a media release in response to the PCE's report:
The Parliamentary Commissioner for the Environment's report into greenhouse gas emissions from agriculture highlights the need for a suite of mitigation solutions rather than a single silver bullet.
In welcoming this report, Harry Clark, NZAGRC Director says, "The report provides a comprehensive overview of the unique challenges New Zealand faces when it comes to agricultural greenhouse gases. It emphasises that, for effective mitigation, New Zealand needs to have a suite of mitigation options available that match our diverse farming systems rather than hope for a single, one size fits all 'silver bullet' solution."
The report released by the Parliamentary Commissioner for the Environment (PCE) today outlines New Zealand's unique situation and provides an overview of the technologies and practices that could help reduce greenhouse gases from New Zealand's pastoral sector. The report covers breeding low methane-producing animals, identifying low methane feeds, manipulating rumen microbial communities to reduce methane emissions, pathways for reducing nitrous oxide, and the use of trees to offset emissions.
The government funded NZAGRC, in partnership with industry, is coordinating and investing in research to allow these options to be developed, tested and adopted by New Zealand farmers.
Harry Clark says, "New Zealand's agricultural emissions make up almost half of New Zealand's total greenhouse gas emissions. The more options we have to reduce agricultural greenhouse gases, the easier it will become for New Zealand to achieve its 2030 emission target signalled under the Paris Agreement of a 30% reduction in emissions compared with 2005."
The PCE report not only presents technical options but emphasises that any solution needs to be scrutinised for the actual reduction it can achieve on farm (and whether it reduces absolute emissions or, primarily, emissions per unit of product), its positive or negative side-effects, cost-effectiveness, ability to be integrated into existing systems, and whether it makes sense from a national perspective.
Harry Clark says "Research and technical development is only the first step in a solution. The report by the Parliamentary Commissioner for the Environment provides a highly accessible summary of potential solutions. More importantly though, it concludes by considering the next steps: how we can collectively ensure that our science can be adopted to the benefit of the country and the climate? The Paris agreement sets a new framework for addressing climate change issues and this report makes a valuable contribution to the debate New Zealand must have round the role of agriculture in meeting national emissions reduction commitments agreed under this framework."Note:
Note: Dr Clark was involved in the review process of the PCE's report.