The Parliamentary Commissioner for the Environment Dr Jan Wright released her latest report on Wednesday, this time turning her attention to the issue of agricultural greenhouse gases.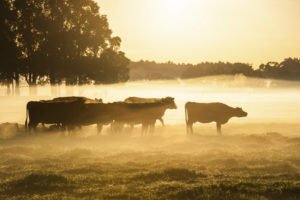 Methane and nitrous oxide – dubbed the biological greenhouse gases – make up about half New Zealand's total emissions, Dr Wright said. If New Zealand had a chance of meeting the emissions reductions pledged in Paris last year, "the next few decades will be crucial," she said in a media release. "It's time to join forces and make some progress".
Dr Wright outlined several promising avenues for reducing methane and nitrous oxide emissions – including a methane vaccine – but suggested an immediate opportunity was in native and plantation forestry, particularly allowing marginal land to revert to native vegetation.
'It might not be the whole solution, but a million hectares of trees would make a big difference – not to mention the added benefits for erosion and water quality."
The report, a media release and FAQ are available on the PCE's website.
The report's launch was widely covered by media, including:
Newshub: Parliament gets an environmental 'reality check'
Radio NZ: Reforesting marginal land could buy time – climate change report
Stuff.co.nz: Gertie's gas: How a single cow contributes to climate change
TVNZ: Environment Report 'a reality check' for farming
The Press: Farms need drastic change to lessen climate change impact
NZ Herald: Emissions Trading Scheme 'not the silver bullet' for agriculture emissions, says commissioner
National Business Review: Use new native forests to offset dairy emissions: Environment Commissioner
Stuff.co.nz: Warning to farmers: Better to move on emissions now than face major shock later [Opinion]
Radio NZ: NZ urged to deal with farm emissions or face cost
NZ Herald: Time to act on agricultural emissions, says environmental watchdog
Newshub: Federated Farmers: Joint effort needed on emissions
Radio NZ: Environment report takes 'right approach' – Farmers
Stuff.co.nz: NZ farmers need to carry the can for their greenhouse gases – Environment Commissioner
Newstalk ZB: Climate change report calls for immediate progress on farm emissions