A heavy weekend road toll has sparked debate about how to improve road safety in New Zealand – is lowering the speed limit the answer?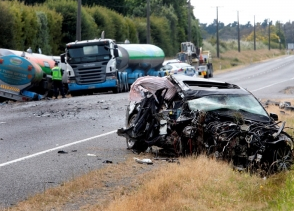 Ten people died in five separate crashes over the weekend, prompting Assistant Commissioner for Road Policing, Dave Cliff to call for a lowering of the speed limit on certain open roads.
However the Prime Minister, speaking to the Paul Henry show, didn't support lowering speed limits, saying alcohol, speeding and fatigue were the key issues for road safety.
The SMC collected the following expert commentary. Feel free to use these quotes in your reporting. If you would like to contact a New Zealand expert, please contact the SMC (04 499 5476; smc@sciencemediacentre.co.nz).
Dr Glen Koorey, Senior Lecturer in Transportation Engineering, University of Canterbury, comments:
"Lower speeds are certainly a key part of the answer to reducing the road casualty figures in New Zealand; it's the one part of the Government's Road Safety Strategy to 2020 that has yet to be meaningfully implemented.
"The basic physics is clear: reduced speeds result in more time to see and react to events resulting in fewer collisions and reduced severity of the remaining collisions. Internationally, jurisdictions that have strongly implemented speed management programmes have seen substantial reductions to their road tolls.
"Speed treatment options include lower posted speed limits, street redesigns and traffic calming, and greater enforcement. As the Prime Minister alluded to [on the Paul Henry Show], a change in posted speed limit alone won't magically change driver speeds, but it will have a small effect on behaviour and certainly change expectations.
"Most evidence suggests that, for every 10km/h that posted speed limits are reduced without any other changes, typically mean speeds reduce by about 2-3km/h. Although it seems like a small change, a difference in speeds of 2-3km/h is the equivalent of reducing fatalities by potentially 10%.
"On many rural roads, 100km/h is a completely inappropriate speed to aim for; yet, without a changed speed limit from the default, that is what many drivers will aspire to."