Almost 269,000 tonnes of plastic pollution may be floating in the world's oceans, according a team of scientists from around the globe, including New Zealand, whose research was published today in the journal PLOS ONE.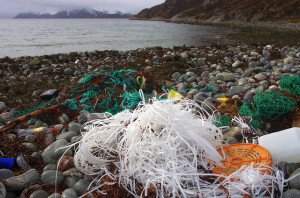 The team included researchers from Dumpark Data Science and eCoast, who combined ocean current modelling with data on plastic pollution collected from various sailing expeditions. You can see the global results in this interactive infographic map developed by the authors.
They found that the entire ocean likely contained a minimum estimate of 5.25 trillion plastic particles weighing 268,940 tonnes.
"Surprisingly, the total amounts of plastics determined for the southern hemisphere oceans are within the same range as for the northern hemisphere ocean, which is unexpected given that inputs are substantially higher in the northern than in the southern hemisphere," the scientists write.
They suggest that this is because the larger plastic objects left dumped at shorelines are being ground down into microplastics by the gyres, and then ejected far and wide across the ocean.
Microplastics can make their way into the food chain, harming a broad range of marine life.
The research has been covered in New Zealand and international news. Examples include:
Dominion Post: Ocean plastic count in the trillions
Radio New Zealand: 5 trillion pieces of plastic clog oceans
3 News: Study exposes world's plastic-filled oceans
New Zealand Herald: Oceans choked with almost 270,000 tons of plastic pollution
Business Insider Australia:  Here's The New Estimate On The Total Weight Of Plastic Floating In The World's Oceans
The Age: Ocean plastic count in the trillions
The Guardian: Full scale of plastic in the world's oceans revealed for first time
The Herald Scotland: WORLD'S OCEANS ARE FULL OF PLASTIC
The Daily Mail: More than five TRILLION pieces of plastic now litter our seas and oceans
NBC News: 269,000 Tons of Plastic Floats in World's Oceans, Researchers Say
ABC News: Study: 270,000 Tons of Plastic Floating in Oceans
Newsweek: There Are 270,000 Tons of Plastic Garbage Floating Atop the World's Oceans
New York Times: Study Gauges Plastic Levels in Oceans
CTV News: 260,000 tons of plastic floating in the ocean: study
Jamaica Observer: Oceans laden with 269,000 tons of plastic: study
The Hindu: Mountains of plastic waste afloat in the oceans