Twelve outstanding New Zealand researchers have been awarded medals at the Royal Society of New Zealand 2014 Research Honours event, held in Wellington on Wednesday night.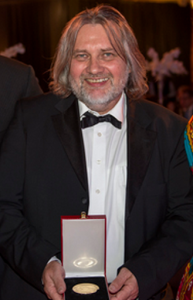 The Rutherford Medal, the top medal awarded by the Royal Society of New Zealand, was presented to Distinguished Professor Peter Schwerdtfeger of Massey University for his world-leading contribution to fundamental aspects of chemical and physical phenomena in atoms, molecules and condensed matter.
The Callaghan Medal for science communication was awarded to University of Otago geneticist Associate Professor Peter Dearden for the outreach activities of Genetics Otago (including the Southern Genes blog on Sciblogs) that he helped form and his involvement in communicating his genetics research on honey bees with the beekeeping industry and the public.
The MacDiarmid Medal for research with potential for human benefit was awarded to clinician scientist Professor Alistair Gunn FRSNZ, University of Auckland, for his pioneering research on using brain cooling to prevent brain injury in babies who experience low oxygen at birth. This treatment is now the standard of care around the world and can prevent disability in all but the most affected newborns.
Nine other medals were also presented to highly esteemed researchers in disciplines including archaeology, literature, mathematics, education theory, technology and environmental research.
The awards have been widely covered in national media. Examples include:
Radio New Zealand: Decades of work pays off for physicist
Yahoo New Zealand: Top gong for brilliant Kiwi scientist
3 News: Kiwi scientist wins top honour
New Zealand Herald: Explosive start for NZ's highest science honour recipient
Otago Daily Times: Academics honoured
NewstalkZB: Top recognition of classic piece of Kiwi ingenuity
3 News (video): Doctor honoured for baby brain cooling cap
Radio New Zealand, Morning Report (audio): Physicist wins prestigious Rutherford medal