Sunday TVNZ's Ian Sinclair speaks to Dr. Andrew Miller and Prof. Margreet Vissers about Vitamin C and whether it could help in treating cancer.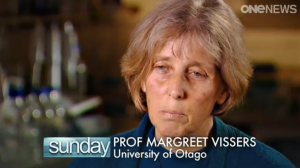 An extract (read more here and watch the video clip here):
Otago University Professor Margreet Vissers has told the Sunday Programme Vitamin C is unlikely to provide a miracle cure. However it could be used alongside other therapies.
"We think Vitamin C is potentially another tool in the toolbox of anti-cancer treatments."
Lab tests at Otago showed tumours with higher levels of Vitamin C were less aggressive and slower to grow than ones with lower levels of the vitamin.