Compared to good hand washing practice, using hand sanitisers does not reduce school sick leave in children, suggests New Zealand-led research published in PLOS Medicine this week.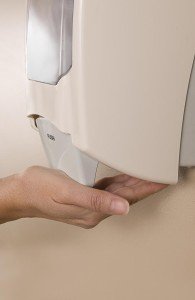 The study, led by Associate Professor Patricia Priest and colleagues from the University of Otago, involved almost 2,500 pupils at 68 primary schools in Christchurch, Dunedin and Invercargill. As part of the study, the scientists split the schools into two experimental groups, and gave all the pupils in both groups a 30-minute lesson on hand-washing. The first group of schools then carried on as normal, while the second group had hand sanitisers installed in classrooms and the pupils were told to use them after coughing or sneezing and before they left the classroom for break or lunch.
After two terms, the researchers then compared the number and type (respiratory or gastrointestinal) of sick days in each group, but they did not find any significant difference. This suggests that using hand sanitisers is not as critical to preventing illness as previously thought. However, the researchers point out that the results may have been skewed by the fact that the study was carried out during the 2009 flu pandemic, a time at which public health messages about general hygiene may have promoted more heavily than usual.
The study has been covered widely in New Zealand and global media:
Otago Daily Times: Study challenges hand-sanitiser use
New Zealand Herald: Sanitiser trial fails to cut illness
TVNZ: Hand sanitisers in schools do not reduce sick days – research
Nine MSN Australia: Hand sanitisers don't stop kids getting sick: study
Business Insider Australia: Hand Sanitisers At New Zealand Schools Didn't Reduce Sick Days
Lifehacker Australia: Study Shows School Hand Sanitisers Do Not Reduce Flu Levels In Kids
USA Today: Study: Hand sanitizers not shown to cut school absences
CNN: Hand sanitizer doesn't help in schools
WTNH News 8 (Video): Study: skip the hand sanitizer, teach hand-washing
TIME Magazine: Hand Sanitizers Don't Lower School Absences
ABC News Radio: Scratch Hand Sanitizers Off Your Back-to-School List, Study Suggests
WEAR ABC 3 (Video): Best practice for school germs good old fashioned hand washing practices