Ahead of next week's Scientific Committee on Antarctic Research biennial meeting in Auckland, the New Zealand Herald's Jamie Morton highlights eight Kiwi research projects currently under way in the deep south.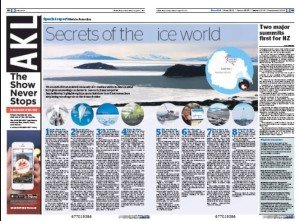 An excerpt (read in full here):
Kiwis in Antarctica: Secrets of the ice world
1. Buried climate clues
Hidden hundreds of metres below the frozen, 130km-long Roosevelt Island, on the eastern limits of the Ross Ice Shelf, lie some of the most important clues to the complex puzzle that is Antarctica's relationship with climate change.
Three to five million years ago, when carbon dioxide concentrations in the atmosphere were similar to those predicted for the end of this century, the enormous ice shelf buckled several times, triggering the collapse of West Antarctica.
Ice cores collected from the island reveal what ocean conditions were like over the tens of thousands of years, giving an indication of how sensitive the ice is, and what might happen if history is repeated.