Biowaste: Save our soils?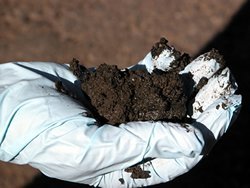 It is easy to forget that New Zealand's wealth is underpinned by the top 15 centimetres of soil coating our productive land.
Our agriculture relies on fertile soil, but each year 200 – 300 million tonnes of topsoil is washed out to sea – a rate up to ten times faster than in other countries. Intensification of agriculture, urban expansion, erosion and contaminants seeping into the soil are compounding the issue.
Scientists hope biowaste – biodegradable materials that are discarded by industry and the residential sector but that are nutrient-rich – could help in replenishing our supply of soil. But there are many challenges ahead: there is limited knowledge of the contaminants carried in biowaste and how they might interact and New Zealand still dumps 90 per cent of its biosolid waste in landfills. In other countries, such as the US, Europe and Australia, up to 40 per cent of biosolids are reapplied to agricultural land.
The Science Media Centre will host an online briefing on Monday October 12 at 10.30am featuring scientists from ESR, Plant & Food as well as leading environmental scientist Dr Susan Jobling of the Brunel University in London. Jobling is visiting New Zealand for a workshop hosted by ESR and looking at biowaste and emerging contaminants.
Journalists can dial in from their desks to find out the latest on biowaste research here and internationally and watch a slide presentation via the web. Log-in details will be emailed to registered journalists. For further information, contact the SMC.
Herald's Gibson for Copenhagen


The Science Media Centre Travel Grant, which was open to all journalists interested in attending the COP15 climate negotiations in Copenhagen in December, has been won by the New Zealand Herald's Eloise Gibson.
Gibson is the paper's science and environment reporter and edits the paper's Green page, which runs each Monday. The judges of the grant, Science New Zealand's chief executive Anthony Scott, Massey University's Alan Samson and the Australian Science Media Centre's Lyndal Byford commented that the quality of applications was very high and made the task of judging them difficult.
The SMC will be holding a series of briefings in the run-up to Copenhagen and offering support throughout the conference to journalists covering the proceedings from New Zealand and on the ground in Copenhagen, where our colleagues at the soon-to-be-established Danish Science Media Centre will be on hand to help out.
SCANZ conference – register now!
The annual conference of the Science Communicators Association is happening in Palmerston North on November 9 – 10 this year and registrations are now open.
This year's theme is Beyond the Daily News and looks at what innovative science communication is underway in New Zealand, both in the media and in other formats.
There's a great line-up of speakers, including veteran science documentary
maker, Natural History New Zealand's Andrew Waterworth, the Chief Science Advisor to the Prime Minister, Professor Sir Peter Gluckman,  Christian Elson from National Geographic and Barry Fox, a former Vice President of the American broadcasting network CBS.
The SMC will be there too because this will be the premiere science communication event of the year.