Fifty people have died following attacks on two mosques in Christchurch on Friday, March 15.
Here, we've collated some key coverage of the event, the reaction that followed and the conversations that will continue in the coming weeks and months.
We hope you find these resources useful, and please don't hesitate to get in touch if you feel there's something we have missed.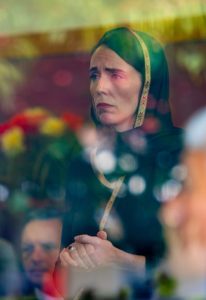 Key coverage
The end of our innocence: Stuff reporters worked to quickly identify the 50 victims from Masjid Al Noor and Linwood mosques.
As conspiracy theories swirl, experts urge caution: NZ Herald investigative reporter Matt Nippert talked to experts warning that readers should rely on reputable sources to avoid false claims about the attack.
The dark web and the rise of the alt-right: University of Canterbury researcher Ben Elley studies alt-right communities and knew immediately where to look as reports of the shooting broke.
SMC Expert Reactions
More coverage from local and international academics can be found on The Conversation.
Timeline of events
March 15, 2019:
1.40pm: Forty-one people are killed, and dozens injured when a man opens fire inside Masjid Al Noor Mosque in Christchurch with a semi-automatic weapon during Friday prayers. He livestreams the attack on social media.
1.55pm: The alleged shooter then drives to Linwood Islamic Centre where he kills a further seven people, and fatally injures one, who will later die in hospital.
2.17pm: Police apprehend the alleged attacker. Many schools and businesses remain in lockdown into the afternoon and early evening.
4.10pm: Prime Minister Jacinda Ardern addresses media for the first time condemning the attack and stating, "this is one of New Zealand's darkest days".
5.30pm: Police Commissioner Mike Bush announces four people are in custody. It is later announced one is not linked to the attacks.
7.30pm: In a second media conference, Arden labels the shooting a "terrorist attack". The death toll is 40.
By 9pm, the death toll is 49. Various support pages have been set up as well as a missing person's page, where people can register names of loved ones or mark themselves as safe.
March 16: A 28-year-old man appears in court on a murder charge. He enters no plea. News of the attack spreads around the world. Ardern states "gun laws will change".
March 17: Another body is found in the mosque and the death toll rises to 50, while 36 remain in hospital. Names of the dead begin to surface.
March 18: Jacinda Ardern announces a plan to change gun laws will be ready within 10 days. TradeMe suspends sales of automatic guns. Stuff announces it is no longer accepting advertisements for guns, and NZME announces a stand-down.
Ardern announces an inquiry into the circumstances leading up to the attack.
March 19: Several banks and other major companies pull their advertising from social media. Advertising industry bodies called on social media platforms to do more to ensure such traumatic content is never live-streamed again.
Autopsies are completed on all 50 victims and authorities begin releasing bodies to families
March 20: Jacinda Ardern returns to Christchurch to meet with first responders and victims' families. The first of the funerals is held, for father and son victims Khaled and Hamza Mustafa.
March 21: Jacinda Ardern announces urgent changes to gun legislation, including a ban on all military style semi-automatics and assault rifles, with exemptions for .22 calibre rifles and duck hunting shotguns. An amnesty is put in place for weapons to be handed in, and officials are told to develop a buyback scheme.
Resources for reporters
The Dart Center for Journalism & Trauma has advice for journalists, photojournalists and editors reporting on violence:
UNESCO has developed a handbook on reporting on terrorism, including handling rumours and reporting on investigations and trials:
Data & Society suggests better practices to reduce manipulation and harm when reporting on extremists: