The Taranaki Daily News has been running a six-part climate change series, called 'Life of the Edge', examining what climate change means for Taranaki.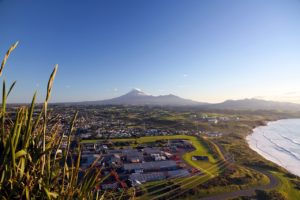 Journalist Deena Coster has explored the impacts of climate change on Māori, changes to local landscapes and impacts on human health.
Insurance Council of New Zealand chief executive Tim Grafton said New Zealanders could expect to face an average annual bill of $1.6 billion due to the impact of natural disasters. With fire seasons extending, firefighting resources were being stretched as local crews were sent to help battle out of control blazes in places like Tasmania.
Victoria University of Wellington's Professor Tim Naish told Coster that regardless of any changes implemented now, a 50 cm sea level rise by 2100 was already "built in". In Taranaki, that would create flooding risk to low-lying areas near rivers like the Waitara, Waiwhakaiho and Te Henui.
Living on the Edge:
What climate change means for Taranaki
A Māori perspective on the climate crisis
Mourning the loss of a landscape
Firefighters under the pump thanks to climate change
The threat of losing your home to the rising tide
Climate change's influence on human health