Researchers examining an underwater volcano that erupted in 2012 have compared its size to the Mt St Helens eruption in 1980.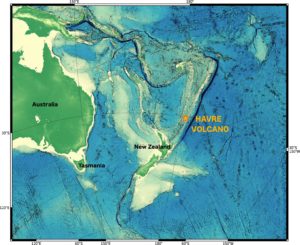 Havre volcano was only discovered in 2002 and when it erupted in 2012 initially no-one knew something had happened until a giant pumice raft, covering about 400 square kilometres of ocean, was spotted floating near New Zealand.
Now Australian and New Zealand researchers have published the results of an exploration of the underwater volcano, published today in Science Advances. Using submersibles, including a remotely operated vehicle, the team showed the complexity of the eruption that involved more than 14 vents.
Lead author Dr Rebecca Carey, from the University of Tasmania, told Radio NZ that the volcano was about the size of Mt Ruapehu and the eruption had "absolutely devastated" surrounding marine life. Because there was information gathered about Havre before the eruption, the event was a "scientific gold-mine", she said, with a decade's worth of work to glean from the data collected in the 2015 expedition.
The research was covered by local and international media, including:
NZ Herald: Undersea eruption near New Zealand was century's biggest
Stuff.co.nz: World's biggest deep sea volcanic eruption in 100 years happened 1000km from NZ
Radio NZ: 'Massive' Kermadec eruption rivalled Mt St Helens – study
Newshub: Little-known eruption near NZ the biggest in 100 years
TVNZ: Massive deep-sea eruption off New Zealand coast was biggest of the past century – study
Boston Globe: Woods Hole scientists took close look at largest underwater volcanic eruption in 100 years
Newsweek: Underwater volcano off New Zealand spewed 150-square-mile pumice raft in largest eruption in a century