2017 is set to be in the top three hottest years on record, with record-breaking extreme weather, according to the World Meteorological Organization's (WMO's) provisional statement on the state of the climate.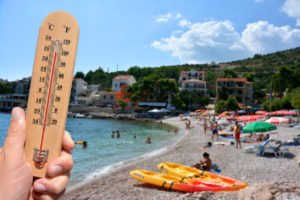 Released to coincide with the start of the United Nations climate change conference in Bonn, the statement said 2017 was set to be the warmest year on record without an El Niño influence. The two hottest years on record, 2015 and 2016, were both boosted by an exceptionally strong El Niño.
The climate statement has been covered by local media, including:
Radio NZ: 2017 on track to be among hottest years recorded
NZ Herald: World Meteorological Organization predicts 2017 will be third hottest year
Radio NZ: Our hottest years
TVNZ: Meteorological Organisation expects 2017 to be one of the hottest years ever
Stuff.co.nz: 2017 set to break records for extreme weather
Newstalk ZB: Greenhouse gases only explanation for rising temperatures, conference declares
The SMC gathered expert reaction to the report, please feel free to use these comments in your reporting. 
Professor James Renwick, School of Geography, Environment and Earth Sciences, Victoria University of Wellington, comments:
"Recently, the rate of change of warming globally has been really remarkable. We now appear to be well and truly through the 1 degree of warming (compared to pre-industrial) barrier, heading for 2 degrees. What's really striking is that this year is coming in as probably the second warmest year on record, after the big El Niño-influenced 2016. The fact that we have such warmth this year without an El Niño, and in fact with a slightly cooling La Niña developing in the Tropical Pacific, tells me that the background warming trend (from greenhouse gas increase) is really becoming apparent.
"The main way we experience climate change is through extreme events, and this year has seen extraordinary extremes around the world. From record floods and fires in North America to record monsoon rains in Bangladesh and India, to heatwaves in many parts of the globe, 2017 has already been exceptional.
"Here in New Zealand, we have seen several major flood events, including Edgecumbe in April and the eastern South Island from Dunedin to Christchurch in July. While the analysis has yet to be done, it is very likely that these events have a climate change 'fingerprint', as a warmer atmosphere can hold more moisture, making heavy rain events more frequent. Sea levels continue to rise, and the latest science shows that we may see considerably more than 1 metre this century, with many more metres to come, unless we cap greenhouse gas emissions urgently.
"The Bonn 'COP23' meeting is on this week and now is the time for countries to demonstrate action on climate change. To stay below the 2 degree Paris limit, the world economy needs to be carbon-free within 50 years. A huge ask, but the costs of inaction or failure are almost incalculable. Rather than a burden, this is a real opportunity for government and business to lead the way into the green economy."
Dr Jim Salinger, Honorary Research Fellow, University of Otago comments:
"Huge storms in July brought Oamaru's wettest day on record (174 mm), the second wettest day to Winchmore (151 mm) and Dunedin's wettest July day on record (94 mm). Dunedin City has now had two extreme events because of climate change within the last two years where flooding has occurred in South Dunedin. Floods and inundation because of sea level rise is going to increase in coming years. Otago Regional Council shows almost 3000 homes in the suburb of South Dunedin are just 50cm above sea level – which makes this area at most risk in New Zealand.
"And the 'Long white cloud' cloaking the Southern Alps continues to shrink. The latest ice volume calculations using NIWA's end of summer snowline surveys, published in June, show a further decline by March 2016 to a mere 32 cubic kilometres, 60 percent lower than in 1977, and probably a meagre 20 percent of those estimated in the 1890s!
"Dave Cull head of Local Government New Zealand (LGNZ) is quite correct in pushing for action by central government, given the diverse state of individual responses by district, city and regional councils to flooding. This, and efforts to reduce our greenhouse gas emissions, will be one of the first tasks that the new parliament will need to address urgently so we can adapt and reduce the impacts of climate change. They will be busy!"
Our colleagues at the Australian Science Media Centre also gathered expert reaction to the climate statement. Further comment is available on the UK SMC website.
Blair Trewin, is scientific coordinator of the WMO Statement. He is an Australian climate and weather expert.
"Although 2017 will not be the world's warmest year on record, it will still be warmer than any year before 2015.
"2017 saw record-breaking heatwaves in Chile, the Mediterranean, Southwest Asia and California, as well as continuing severe drought in East Africa and destructive floods in the Indian subcontinent, and a very active North Atlantic hurricane season."
Dr Pep Canadell is the executive director of the Global Carbon Project, CSIRO Marine and Atmospheric Research.
"It is most significant that temperatures haven't returned to pre-El Niño yet, 1.5 years after it ended. Although we don't know all the details as to why, the human interference of the climate system has never been so clearly manifested as the background global temperature continues to rise in response to greenhouse gas emissions."
Dr Liz Hanna is an Honorary Senior Fellow at the Climate Change Institute at the Australian National University
"Alarming – but not unexpected.
"After three consecutive years (2014 to 2016) of world-breaking heat records, the World Meteorological Organization now reveals that the exceptional heat of 2017 is likely to come in as second or third hottest. This surge in global warming is alarming, but not unexpected. Global atmospheric CO2 levels are now 46 per cent  higher than pre-industrial levels (see graph here).
"This escalation of warming should be sending alarm bells to all Australians, as Australia is over 10C hotter than the global average, and there is an upper limit to human tolerance to heat.
"This extra warming brings more frequent, longer and more intense heat waves. Temperatures over 50C are coming, and we simply cannot keep functioning in such temperatures where we cannot move and cannot work without overheating.
"Air-conditioning can only ever provide limited relief, and only to some. Trees, animals and people all wilt in the heat.
"This surge in warming should prompt a surge in effort to ramp up Australia's mitigation efforts, transitioning to renewables.
"Most importantly, this should further finally stop support for expanding our coal industry. A government that truly represents the nation must prioritise health protection. It is unconscionable to knowingly sacrifice health and wellbeing."