Outstanding New Zealander researchers have been awarded prestigious medals at the Royal Society Te Apārangi Research Honours Dinner, held in Auckland last night.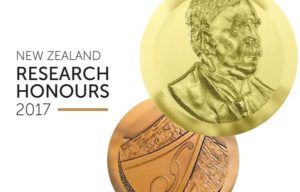 Twenty-one researchers received awards at the event, which also marked 150 years since the establishment of the society.
The society's new President-elect, Professor Wendy Larner, was also announced last night. Professor Larner is Provost at Victoria University of Wellington and will take over as President in July 2018.
The Rutherford Medal, the society's premier science award, was presented to Victoria University of Wellington Professor Colin Wilson for his work on supervolcanoes. His research has shown how large volcanoes behave before and during explosive eruptions, including those that created Lake Taupō, expanding our understanding of volcanoes and the hazards they pose.
In addition to the medal, he was also presented a $100,000 prize by the Governor-General Dame Patsy Reddy.
The Callaghan Medal for science communication was awarded to Professor Peter Shepherd from the University of Auckland, for his work developing activities to increase the understanding of science by the New Zealand public.
The Health Research Council also presented two medals. The Liley Medal was presented to dentist Associate Professor Jonathan Broadbent, University of Otago, for a study showing a clear long-term link between a child's upbringing and the state of their teeth as a middle-aged adult.
The Beaven Medal went to University of Auckland's Professor Alistar Gunn for pioneering the use of mild cooling to treat babies with brain injuries at birth.
The society also announced it would present a new medal next year, Te Puāwaitanga, to recognise research that has made a distinctive contribution to Te Ao Māori and to Māori and indigenous knowledge. Two further Māori research medals will be announced next year.
You can read the full list of recipients on scimex.org. Coverage of the awards includes:
NZ Herald: Top research honour for NZ supervolcano expert Colin Wilson
Newstalk ZB: What happens if a supervolcano erupts?
Otago Daily Times: Role in 'greening' planet earns award
Radio NZ: Awards honour top NZ researchers
TVNZ: Kiwi scientist honoured for four decades of research on super volcanos
Stuff.co.nz: A coup for Kiwi medicine: Peter Tyler honoured for work developing aggressive lymphoma drug
Newsroom: The science of NZ supervolcanoes
Te Karere: Māori academics honoured by Royal Society
Newsroom: Māori research wins big at awards
Sciblogs: NZ's top researchers recognised in Royal Society Te Apārangi awards
Radio NZ: Drug discoverer recognised with a top science honour