NASA's Super Pressure Balloon has once again taken flight from Wanaka on a mission planned to run for 100 days and take the balloon around the globe.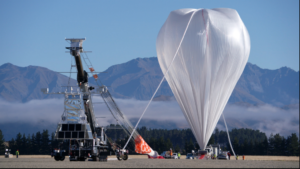 Following on from the 2015 and 2016 missions, the team are hoping the third time's a charm for hitting the 100 days of flight milestone. Launched yesterday, the balloon also carried a poppy in commemoration of Anzac Day.
The flight's main objective is to validate the super pressure balloon technology, but it is also carrying the International Extreme Universe Space Observatory, which aims to detect ultra-high energy cosmic rays from beyond our galaxy as they penetrate the Earth's atmosphere.
After a month of early mornings and seven failed launches, the Otago Daily Times reported cheers of joy once the stadium-sized balloon left Earth on its journey.
Later in the day, there were multiple reports in Christchurch spotting the balloon passing over the city.
The launch was covered widely by NZ media, including:
Newshub: NASA balloon takes off from Wanaka
NZ Herald: Nasa super balloon spotted from Christchurch to West Auckland following today's Wanaka launch
Radio NZ: Light in the sky over Chch likely Nasa balloon
Newstalk ZB: NASA super pressure balloon launches from Wanaka
Otago Daily Times: Balloon goes up to where the cosmic rays are
TVNZ: The moment NASA launches super pressure balloon from Wanaka
Radio NZ: Up, up and finally away
Stuff.co.nz: Nasa balloon carries Anzac poppy to outer space and is seen from Christchurch