Firefighters have been battling fires on Christchurch's Port Hills since Monday evening.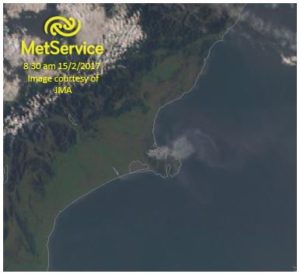 Hundreds of hectares of scrub and vegetation have been burnt and nearby residents have been evacuated.
The Science Media Centre asked experts about the conditions fuelling the fire. Feel free to use the comments below in your reports.
Professor George Perry, Professor of Environmental Science, University of Auckland, comments:
"Fuels, weather conditions and their interactions drive the behaviour of wildfires. Dead and fine fuels, such as grasses, are highly combustible because they have low moisture content and dry out quickly.
"The vegetation on much of the Port Hills is extremely flammable, especially in those areas where gorse, which is characterised by large amounts of well-connected, dead and fine material, is abundant. Wind and terrain conditions determine fire behaviour, with fire spreading preferentially with the wind and upslope as the flames are tilted towards the fuels.
"The dry and windy conditions in Canterbury have led to conditions conducive to fire spread as fuels are dried and the flaming front pushed by the wind. Shifts in wind conditions pose a hazard to firefighting activities as the fire front can rapidly change speed and direction in ways that are difficult to predict.
"In the longer term, a key question is 'what vegetation will replace that which has burned?' A number of invasive plant species, including gorse and pine, are well adapted to regenerate after fire. However, although some of New Zealand's native species such as mānuka and kānuka are very flammable, few are adapted to fire; this absence reflects the low frequency of fire in NZ's ecosystems prior to human settlement. Thus, repeated fire favours fire-loving exotic plant species.
"Those species that appear in the aftermath of fire tend to be highly flammable so there is the potential for a feedback loop in which 'fire begets fire', a dynamic that may be exacerbated in a drier, warmer future. It is important for New Zealanders to consider how best we might 'fire-proof' our landscapes by, for example, using tools such as 'green firebreaks'."
Dr Tim Curran, Senior Lecturer in Ecology, Lincoln University, comments:
"Along with weather and landform, fuel is a key determinant of fire behaviour. In wildfires the main fuel is plants, however, it is important to note that plant species are not all equal when it comes to fire. The biomass (amount of plant material), arrangement (how continuous or connected the vegetation is) and flammability of plants (how well they burn) will determine the behaviour of a given fire.
"In areas with high biomass (particularly dead plant material), continuous vegetation (both horizontally and vertically, so the fire can spread throughout the area and up into the canopy), and highly flammable plants you will get intense fires that burn over a large extent.
"The Port Hills and Banks Peninsula have large tracts of continuous, highly flammable vegetation. This includes scrub dominated by gorse, pine and eucalypt plantations or shelterbelts, pastures and grasslands, and native regrowth dominated by kanuka. Gorse and some pine species retain dead material on the plant which makes them particularly flammable. When combined with hot, dry and windy weather, such vegetation fuels the intense and extensive fires like those we are currently experiencing on the Port Hills."