A new study from the University of Auckland-based Liggins Institute has found that children and teenagers struggling with weight issues had low physical activity levels but high screen time.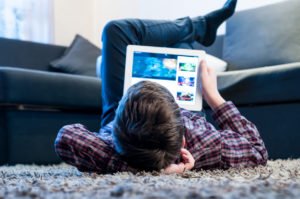 The collaboration with Taranaki District Health Board and Sport Taranaki studied 239 children aged 4-16 who were enrolled in a 12-month intervention programme. All participants had body mass indexes in the clinically overweight or obese range and overall Māori and Pakeha children each made up 45 per cent of the study group.
The researchers found the children and teens had low levels of exercise – a daily average of 39 minutes compared to 105 minutes in a national survey – and an average screen time over 2.5 hours outside of school hours.
Study co-author Dr Yvonne Anderson, from the Liggins Institute, said the low physical activity combined with high screen times was of "concern", with many of the children not meeting guidelines for recommended daily activity.
"We all need to work together to ensure children have access to physical activities and environments to undertake these activities in their everyday lives," she said. "We need to be role models for our children. As our lives get increasingly filled with technology, we need to unplug and get active with our children."
The research was covered in NZ media, including:
NZ Herald: Kiwi childhood obesity study finds low exercise rates, high screen time in overweight and obese Taranaki kids and teens
Radio NZ: Obese kids watch more TV, study finds
Radio Live: Worrying results from a new in-depth study on kids and screen time