The world's largest geoscience programme has confirmed that the research ship JOIDES Resolution will undertake several projects exploring the seafloor off New Zealand's coast.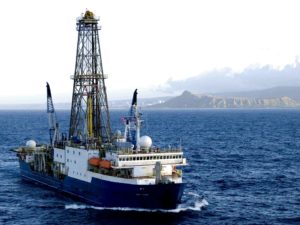 The International Ocean Discovery Programme (IODP) has given the green light to a series of five back-to-back projects starting in August 2017, representing NZ$80 million in investment.
The JOIDES Resolution, an ocean drilling ship, will extract cores from the seafloor around New Zealand and Antarctica, providing insights into earthquake and tsunami risk and enhancing our understanding of how the ocean and marine life will respond to rapid environmental changes.
Read more about the announcement in a GNS Science media release on Scimex. 
Dr Neal Wai Poi, Acting Chief Executive of GNS Science, whose scientists are leading or co-leading  two of the expeditions, said all of the projects encompassed  themes of global significance and would lead to major advances in understanding for earth sciences.
The five projects, in chronological order, are as follows:
Drill into the Tasman Sea, northwest of the North Island, to discover how and why tectonic plate subduction began about 50 million years ago and determine the influence this has had on regional and global climate, particularly a period of intense warming 50 million years ago when there were palm trees in Antarctica (Led by Victoria University of Wellington)
Test if slow deformation of a large seafloor  landslide (about the size of Auckland), 30km off the Gisborne coast, is linked to the occurrence of gas hydrates by sampling the sub-seafloor layer along which the slide mass is moving (Led by The University of Auckland)
Recover geological archives beneath the seafloor off the Ross Ice Shelf to gain an improved understanding of the behaviour and stability of the West Antarctic Ice Sheet through multiple cycles of warming and cooling during the past 20 million years (Led by Victoria University of Wellington)
Drill and install sub-seafloor borehole observatories, about 50km off the coast of Gisborne, along the Hikurangi subduction zone, to learn about slow earthquakes and develop a capability for giving early warnings of damaging earthquakes and tsunamis (Led by GNS Science)
Probe the active Brothers Volcano, about 400km northeast of the Bay of Plenty coast, to investigate the transport of fluids and metals in the Earth's crust and learn about the conditions for microbial life inside submarine volcanoes (Led by GNS Science).
The SMC collected the following commentary.
Dr Beth Fox, Lecturer, Earth Sciences, University of Waikato, comments:
"This is absolutely a big deal. The JOIDES is the premier vehicle for scientific drilling in the world today, and is able to investigate questions of great significance for understanding the history of our planet as well as current geological and oceanographic processes.
"These are projects that would be impossible to achieve without the assistance of IODP, both in terms of funding and infrastructure. Given the difficulty in obtaining funding for fundamental science projects in New Zealand at present, it is a very positive thing for New Zealand science that these five projects have all been approved.
"These projects are looking to answer questions such as how our active tectonic and volcanic systems work and how Antarctica responds to changes in global climate. With earthquakes, tsunamis, volcanoes, and climate change all presenting significant hazards to New Zealand, these questions are relevant to every New Zealander.
"The scheduling of five projects in the New Zealand region, all led by New Zealand scientists, represents a major economic and intellectual investment by the international scientific community in our science. This success is a credit to the Kiwi scientists, both those leading the projects and those supporting them, who've put in a great deal of work to show IODP how globally important our sector of the ocean is."
Prof Timothy Naish, Director, Antarctic Research Centre, Victoria University Wellington, comments:

"Given that most of New Zealand's continental area and its territory in Antarctica  are under ocean, and remain largely unexplored, this is an enormous opportunity to discover and understand more about our back yard and its place in the global system.
"Having the world's biggest and longest-running geoscientific research programme operating around  New Zealand for an entire year will produce a seismic shift in our understanding of environmental change and natural hazards and resources.  This level of one off international  investment ($80M) in New Zealand geoscientific research, is unprecedented and  will likely never happen again. That five  Kiwi-led expeditions have been selected reflects the high quality of the research questions and the importance of the New Zealand region in understanding global environmental change.
"The benefits will range from an improved knowledge of West Antarctic ice sheet stability and its influence on global sea-level, new insights into how  Earthquakes occur below the North Island, to  the discovery of extreme life and minerals form around deep sea volcanoes.
"The challenge for our government, will be to adequately support our  researchers to  participate, such that New Zealand reaps the full benefit of this opportunity."
Dr Joshu Mountjoy, Marine Geologist, NIWA, comments:
"Securing Joides Resolution to complete this comprehensive program of scientific drilling in New Zealand waters is a major coup for New Zealand science. IODP has demonstrated again and again that scientific drilling projects have the potential to make paradigm shifts in how we understand the earth system.
"The Tuaheni Landslide, offshore Gisborne, covers an area roughly the size of Auckland and is slowly moving downslope like a glacier. This is the first example of an active landslide globally and has changed our understanding of seafloor landslides. Ice-like frozen methane locked within the sediment is thought to be responsible for this unique landslide movement and scientific drilling offers the only means of sampling the frozen methane and will be combined in a 3D digital model to analyse the landslide.
"Large landslides on the seafloor can move mountain-scale size pieces of rock and mud and have caused some of the largest tsunami in human history. We know that many landslides have occurred off New Zealand's coastline in the past, including the second largest in the world. To calculate the potential for causing large tsunami we need to understand how fast landslides move and what causes them to collapse. This scientific drilling project using Joides Resolution will give us the information we need to understand the tsunami hazard."
Dr Philip Barnes, Principal Scientist – Marine Geology, NIWA, comments:
"Subduction margins along the edge of continents are formed where one of Earth's tectonic plates is diving underneath (subducting) an adjacent plate. Off eastern North Island, this occurs along the Hikurangi margin, in about 3km of water depth, where the Pacific plate is thrusting beneath the edge of the Australian plate at a rate of about 4 cm/yr. Recent disasters, such as the 2005 Sumatra and 2011 Japan earthquakes and tsunamis, have shown that these types of subduction zones are notorious for producing the largest earthquakes and tsunami on Earth, yet their behaviour may vary greatly from region to region. Some, subduction faults like north Hikurangi, are characterised by a mixture of slow slip faulting, creeping deformation, and possibly less frequent moderate to large earthquakes. In other regions, such as south Hikurangi offshore of Wairarapa, subduction faults may be temporarily stuck together, with strain to be released in future great earthquakes (M>8). We still know very little, however, about the earthquake and tsunami potential of Hikurangi subduction zone.
"The international science community has recognised the special characteristics of the northern Hikurangi margin. Notably it has recently been demonstrated that slow slip on the subduction fault occurs beneath the continental slope at very shallow depths. Following numerous international workshops, the region offshore of Gisborne was recognised as the best location on Earth to use available ocean drilling technology to improve understanding of what causes some subduction faults to creep in slow slip events. It is for this reason that the IODP proposal has been successful."
"The planned survey by Joides Resolution, just scheduled for 2018, will represent not only a massive financial investment in New Zealand by the international IODP community, but also a tremendous opportunity for New Zealand to show case its natural environment and its respected geoscience capability. On this survey, some 40 scientists from many countries will drill cores beneath the seafloor and undertake geophysical logging of the sediment and fault properties, as well as installing instruments in boreholes to monitor the tectonic deformation over multiple year cycles of slow slip faulting behaviour. Together these data and seafloor observatories will contribute a great deal to understanding of fundamental subduction processes. Hopefully they will also underpin future improvements in hazard assessment for New Zealand, leading to a more resilient society for present and future generations."