The Government has this week launched the public awareness campaign for the new Health Star Rating front-of-pack labelling, aiming to h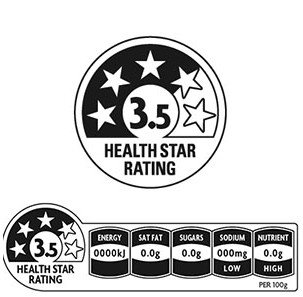 elp consumers make healthier choices.
The labels have been quietly appearing on a range of packaged food products over the last year; around 1,000 products with Health Star Ratings are now on supermarket shelves. The system uses ratings of 1/2 to 5 stars to indicate the overall nutritional contents and healthiness of packaged foods, calculated using an algorithm.  Further details from the Ministry of Primary Industries available below.
The New Zealand and Australian governments agreed to introduce the scheme as a voluntary trans-Tasman initiative in 2014.
The Science Media Centre collected the following expert commentary.
Prof Cliona Ni Mhurchu,  Population Health, Faculty of Medical and Health Sciences, University of Auckland, comments:
"The introduction of the Health Star Rating labels is a good starting point. The labels can work in two ways: by helping support healthier food choices when people are shopping and they can also incentivise the food industry to create healthier products.
"The back of pack labelling that we have at the moment is mandatory Nutrition Information Panels. We know from many studies that people really struggle to understand these panels and make sense of them. There is a lot of information there and at the end of the day people just want to know 'is this a healthier option or not?'
"Front-of-Pack labelling gives people quick, simple information that they can absorb at a glance to will help them determine whether that food is healthier choice or not.
"We know from previous research that people generally find 'interpretive' front-of-pack labels easier to understand than 'informative' back of pack labels. 'Interpretive' means the labels use different ways to actually convey to people who are shopping whether it is a healthier choice or not – rather than just giving them numbers. Examples include the Health Star Rating and Traffic Light labels.
"Front of Pack labelling is just one tool in the toolbox however; we should be also looking closely at some of the potentially cost effective obesity interventions recommended by organisations and institutions around the world. These include: restricting advertising of junk food to children, introducing sugary drink taxes, and creating standards around the types of food that are available for sale in our schools and hospitals.
"It is also important that when we implement initiatives like the Health Star Rating system we monitor them to make sure they are actually making a real difference to diets and health."
Prof Ni Mhurchu is a member of the New Zealand Front of Pack Labelling Advisory Group. Further comments regarding the Starlight trial of food labelling are available below.
Dr Rachael McLean, Senior Lecturer Public Health & Nutrition, University of Otago, comments:
"The launch of the Health Star Rating system public awareness campaign is an important step in the introduction of the new front of pack nutrition labelling system.  It is vital that the public are informed about how the ratings are produced, and what they mean. In particular, it is important that consumers realise that the system is designed to facilitate comparisons between products within the same food category (eg breakfast cereals) not across different categories.
"Internationally there have been widespread calls from public health advocates for the introduction of better nutrition labelling of food to help consumers make more informed choices.  For example the WHO Report of the Commission on Ending Childhood Obesity (2016) has called for a nations to implement interpretive front-of -pack nutrition labelling.  While there is evidence that front of pack interpretive labels result in some consumers making healthier choices, interpretative labels also encourage food producers to re-formulate their products to get better ratings.  Ideally, this will result in a more healthy food supply overall.
"The Health Star rating system is unique to New Zealand and Australia, and is being implemented despite limited research into its effectiveness.  It is important therefore that that it be comprehensively and independently evaluated, and modified if problems are identified.    If uptake is by industry is limited, mandatory labelling should be considered. "
Prof Elaine Rush, Professor of Nutrition Faculty of Health and Environmental Science, AUT University, comments:
"Comparison between products of the information on the back of packages of foods is difficult and often in small writing.  A front of pack label, the health star rating system, is designed to inform consumers about products within a range, for example cereals or canned vegetables, to make a healthier choice. The number of stars depends on the amount of protein, fibre and fruit, vegetables and nuts in a product (good points) and total energy, saturated fat, sugar and sodium (negative points).
"The Heath Star Rating System has two purposes.  One, which the Health Promotion Agency will promote, is for consumers to make a more informed choice between products within the same range. This is good – we need information that will improve the food literacy of New Zealand people and help balance commercial advertising.
"The second purpose, which actually came first, is to encourage industry to reformulate foods so that they get a higher number of stars – and therefore sell more.  Win win yes but there are caveats.
"The system is based on nutrients and apart from the fruit, vegetable and nut content these can be manipulated to fit the cut off criteria to get more stars. There is no information on the front of pack about what the ingredients are in the product, for example additives and preservatives, and how highly processed the product is – how much of the sugar is part of the ingredients (naturally present in milk, dried fruit) and how much has been added.
"Finally the system is not mandatory for industry and it will be some time before all products in a range are able to have a health star rating. So the bigger companies will have an advantage and make it harder for smaller business.
"The number of stars is useful for packaged foods – but the eating guidelines should also be followed, and they refer to food not nutrients.  Or as Michael Pollen put so well, "Eat food, mainly plants, not too much".
"The best way to health (and a healthy weight and a healthy planet) is whole and minimally processed foods including: Vegetables, fruit, grain foods, milk and milk products, legumes, nuts, seeds, fish, other sea food, eggs, poultry and meat."
Jenny Reid, MPI's Manager Food Science and Risk Assessment, outlines the labelling system:
How should ratings be used to make healthy choices?
"Health Star Ratings allow consumers to make better informed, healthier choices quickly and easily when comparing similar types of packaged foods, e.g. comparing breakfast cereals, by taking the guesswork out of reading nutrition labels.
"The system uses a star rating scale of ½ to 5 stars to measure the overall nutritional content and healthiness of packaged foods. Foods that are low in saturated fat, sugar or sodium (salt), or high in fibre, protein, fruits, vegetables, nuts or legumes will have more stars.
"Health Star Ratings are an independent rating backed by the New Zealand Government and developed in collaboration with public health experts, the food industry and consumer groups, so you can trust the ratings you see on food products."
How are Health Star Ratings calculated?
"Health Star Ratings are calculated using a Health Star Rating Calculator. The calculator uses an algorithm to work out the appropriate rating. The algorithm takes into account the nutritional value of ingredients in packaged foods.
"The calculator assesses how much energy, saturated fat, sodium (salt) and sugar a food contains. Beneficial components of a food, such as fruits, vegetables, nuts and legumes (like lentils and chickpeas) are also considered.  And, where present in foods, dietary fibre and protein content are included in the calculation. Points are allocated based on the quantities of these components in 100g or 100ml of the food, and these are converted into a Health Star Rating.
"Packaged foods are given a number of stars based on:
the overall amount of energy they supply
their saturated fat, sodium (salt) and sugar levels
the quantity of healthy nutrients and ingredients they contain (fibre, protein, fruit, vegetable, nut and legume).
"Foods with more stars have better nutritional value. The system also includes nutrient information icons for energy (kilojoules), saturated fat, sodium (salt), and sugars, and can include one beneficial nutrient such as calcium or fibre.
"The system is designed to be used on most packaged foods. It is not permitted to be used on alcohol, kava or foods that are not required to have nutrition information on the label and some single-ingredient products such as flour, salt, herbs and spices.
"Star Ratings are also encouraging manufacturers to make their foods healthier, and we know that a number of leading brand breakfast cereals have improved their products thanks to the health star rating system. Manufacturers can do this by changing the ingredients or recipe to decrease the levels of saturated fat, sodium (salt) and sugars or to add beneficial ingredients such as fruits vegetables, nuts, legumes or other high fibre or high protein ingredients."
Further comments from Prof Cliona Ni Mhurchu on the University of Auckland on the Starlight trial:
"There are still some important gaps in the evidence around Front-of-Pack labels (FOPL) and their effects on shopping behaviour and longer-term diets, partly because it is quite difficult to evaluate how consumers respond to labels in the real world. A lot of research done so far has been in very controlled environments, like laboratories and workplace canteens.
"We recently undertook the Starlight trial to assess the effects of FOPL on what consumers actually buy in real-world supermarkets. Obviously we weren't able to go out and put FOPL on packages in supermarkets, so we exploited smartphone technology, delivering the labels directly to consumers.
"In the study, around 1400 New Zealanders were randomised to receive one of three different kinds of labels on  their smartphone. When study participants were shopping they could hold their smartphone camera over the barcode of a packaged food and immediately see a nutrition label for that product: a Health Star Rating, Traffic Light label or Nutrition Information Panel – depending on which group they were in.
"We used the same technology to record what foods people actually bought over a five week period. The trial finished at the end of last year. We will begin data analysis in the next few weeks and expect that results will be available around the middle of this year."