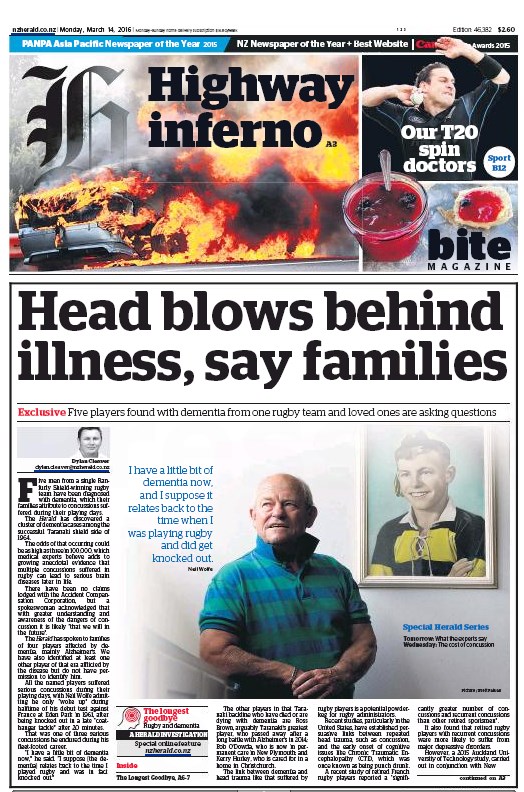 The hidden lifelong impact of concussion and head injury in rugby has been thrust into the spotlight this week by a New Zealand Herald investigation.
'The longest goodbye: Rugby and the dementia dilemma,' a feature article by Dylan Cleaver, forms the basis of the investigation with several news stories published alongside.
The articles dig into the growing awareness of links between head injuries in sports and later neurological conditions including dementia, and Alzheimers disease. The reporting is spurred by the discovery of a clustering of dementia cases in Taranaki rugby players, including five cases in the region's 1964 Ranfurly Shield-winning team.  You can read more about the investigation in the links below.
New Zealand Herald: The Longest Goodbye – Rugby and the dementia dilemma
New Zealand Herald: Rugby and dementia: Team of '64 'revered in the province'
New Zealand Herald: Rugby and dementia: Whose job it is to look after them?
New Zealand Herald: Five players from one rugby team all found to have dementia
New Zealand Herald: Should high school rugby games be 'touch' instead of tackle? – Opinion
New Zealand Herald: The Vent: We'll hear a lot more dementia cases
The increased attention on the issue has also led to reporting in other outlets.
Otago Daily Times: Rugby: Dementia prominent among old team
Newstalk ZB: Wider study needed into dementia in rugby
An excerpt from 'The Longest Goodbye' (read the full feature here):
It is the manifest love affair that troubles clinical neuropsychologist Dr John Glass.
In an austere office on the grounds of Taranaki Base Hospital, Glass, at first reluctantly, tackles a subject he is becoming all too familiar with: retired rugby players coming to him with a range of cognitive difficulties ranging from simple memory loss to full-blown Alzheimer's.
"Taranaki is and always has been a rugby-mad province," he says. "That's just my theory… but because there's this ethos of 'This is the game', there's more people that go in boots and all and take bangs on the head."
There is a misconception among some that dementia is a natural part of ageing. It's not, it is a syndrome. According to World Health Organisation statistics, New Zealand's rate of 19 cases per 100,000 people is relatively high.
That number in itself is relatively meaningless and could be attributed to a number of environmental factors. Dementia conditions including Alzheimer's tend to afflict the elderly. In these days of increased life expectancy, people in the 60s are not considered elderly, yet Glass is seeing more people in this age range come in with dementia symptoms.
"You wouldn't regard someone in their early 60s or even 70s to be regarded as old age," he says. "Increasingly people are working and living older so you know what the norms should be in terms of cognitive tests."
Dr Glass does not subscribe to the theory of dumb luck or random coincidence when it comes to matters of the brain.
"Nothing is a coincidence. The make-up of the individual – their lifestyle, their diet, their exercise tolerance, genes – all of this goes into a melting pot.
"I'm sure there are people who are really resilient who gets bangs on the head and don't develop anything… but there is a sneaking suspicion that there is more evidence that there is trauma of some kind preceding the change in the brain of the people we assess."
Like the number of rugby players past and present that walk through the doors of his clinics.
"There's a pattern and it's sad."