A regulatory body in the UK  has approved the first research application to use new 'gene editing' techniques on human embryos.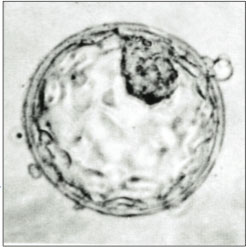 The Human Fertilisation and Embryology Authority is the UK's independent regulator overseeing the use of gametes and embryos in fertility treatment and research. The Authority has today approved a proposal for new research, led by the Francis Crick Institute, aiming to understand the genes human embryos need to develop successfully.
The scientists behind the proposal say knowledge gained from their research, which uses genetic manipulations in fertilised human embryos up to seven days old, may improve embryo development after in vitro fertilisation (IVF) and might provide better clinical treatments for infertility.
New Zealand coverage of the decision includes:
New Zealand Herald: Britain approves controversial gene-editing experiments
Stuff.co.nz: Britain gives scientist go-ahead to genetically modify human embryos
New Zealand Herald: AP News Guide: Facts about gene editing as Britain OKs study
RNZ: UK scientists given go-ahead to edit genes
Our colleagues at the UK SMC collected the following expert commentary.
Prof. Daniel Brison, Professor of Clinical Embryology and Stem Cell Biology, University of Manchester:
"I am pleased that the HFEA have today approved the use of genome editing on human embryos donated to research by couples undergoing IVF treatment. This technology (called Crispr/Cas9) gives scientists the opportunity for the first time to learn about the function of specific genes by removing them from embryos and looking at the effect on the way they develop. We are not doing this work here in Manchester but I will be very interested to speak to the scientists involved and see their results. Now that genome editing has been invented it is not going to go away, and in fact has already been performed on human embryos elsewhere in the world. However this research can now progress under the oversight of an internationally respected regulatory body, the HFEA, who will ensure that it is carried out safely and responsibly; the UK is the best place in the world to do this research."
Prof. Sir Robert Lechler, President of the Academy of Medical Sciences, said:
"It is reassuring to see the HFEA approving Dr Niakan's proposal. Studies such as this, that focus on asking basic questions about human-embryo development, are needed to help answer the many scientific and ethical questions remaining in this field.
"Genetic editing may in the future be applied clinically, to treat or prevent otherwise untreatable and serious genetic diseases. It is important that an open debate continues between not just researchers, but ethicists, healthcare professionals, regulators, relevant patients and their families, and the wider public.
"Dr Niakan's study will not just help to advance the biomedical sciences, but will further inform this ongoing debate, while keeping the UK at the forefront in the field."
Prof. Darren Griffin, Professor of Genetics, University of Kent, said:
"The ruling  by the HFEA is a triumph for common sense. While it is certain that the prospect of gene editing in human embryos raised a series of ethical issues and challenges, the problem has been dealt with in a balanced manner. It is clear that the potential benefits of the work proposed far outweigh the foreseen risks.  It is a clear example how the UK leads the world not only in the science behind research into early human development but also the social science used to regulate and monitor it."
Dr Rob Buckle, Director of Science Programmes at the Medical Research Council, said:
"Today's decision by the Human Fertilisation and Embryology Authority cements the UK's position as a global leader for research. As genome editing techniques develop it's vital that this work continues within a robust and adaptable regulatory framework so that its full potential can be realised in a scientifically, ethical and legally rigorous way."
Ms Sarah Norcross, Director of Progress Educational Trust, said:
"This decision by the HFEA is a victory for level-headed regulation over moral panic. The decision allows basic scientific research into early embryo development and miscarriage to continue, using embryos donated for research by couples who have had fertility treatment in a well-regulated environment."
Mr James Lawford Davies, Partner at Hempsons, said:
"This is a good illustration of how well UK law can accommodate new developments in science and technology.  We have a robust regulatory framework which ensured that this proposal was subject to peer review and ethical scrutiny, but has also enabled this important research to proceed promptly and without undue delay."
Prof. Bruce Whitelaw, Professor of Animal Biotechnology at The Roslin Institute, University of Edinburgh, said:
"The HEFA approval of research on human embryos that involves the use of genome editors emerges after robust assessment of this project. It illustrates how UK regulatory procedures enable the pursuit of appropriate new knowledge. This project, by increasing our understanding of how the early human embryo develops and grows, will add to the basic scientific knowledge needed for devising strategies to assist infertile couples and reduce the anguish of miscarriage will be formed; challenges with which our society continues to grapple. More broadly, this approval is another example of the lead position UK scientists are taking in evaluating the exciting new genome editing technology – which ranges from advances in human reproduction, to controlling the spread of insect-borne diseases, to precision breeding in plant and livestock agriculture."
Dr Sarah Chan, Chancellor's Fellow at Usher Institute for Population Health Sciences and Informatics, University of Edinburgh, said:
"This is an encouraging step as it demonstrates that good science and effective ethical oversight can go hand-in-hand. Dr Niakan's research into the biology of early human development is valuable both for scientific knowledge and the therapeutic applications it may eventually produce, for example in treating infertility and in stem cell therapies. At the same time, the use of genome editing technologies in embryo research touches on some sensitive issues; therefore it is appropriate that this research and its ethical implications have been carefully considered by the HFEA before being given approval to proceed. We should feel confident that our regulatory system in this area is functioning well to keep science aligned with social interests."
Prof. Peter Braude, Emeritus Professor of Obstetrics and Gynaecology, King's College London, said:
"I am delighted to hear that the HFEA have had the good sense to approve this important project.
"Gene editing tools will allow fresh insights into the basic genetic mechanisms that control cell allocation in the early embryo.
"These mechanisms are crucial in ensuring healthy normal development and implantation, and when they go wrong might result in failure to implant or miscarriage.  I await results with interest."
Prof. Robin Lovell-Badge, Group Leader, The Francis Crick Institute, said:
"I am delighted for my colleague Kathy Niakan that the HFEA has approved her Licence Application. This will allow her to not only continue her research on how the early human embryo develops, but allow her to address the role of specific genes through the use of CRISPR/Ca9 genome editing methods. The assumption had been that what is true for the mouse will also be true for humans, but we now know through the work carried out by Kathy and others over the last few years that this is unlikely to be true; indeed there seem to be many differences. The approval of her licence gives the exciting prospect that we will at last begin to understand how the different cell types are specified at these pre-implantation stages in the human embryo. This fundamental knowledge may also have practical benefits in helping to improve success rates for IVF and for both the establishment and maintenance of pregnancy – in ways that will not depend on genome editing methods. We will also learn about the use of the techniques in human embryos, how efficient and accurate they are, which will help inform the debate about whether germline treatments to make heritable changes would be practical and safe.
"The UK has an excellent regulatory system in place, via the HFEA, that will ensure that any genetically manipulated embryos will not be implanted to allow further development: this possibility would require a change of law, and this could not happen without broad approval from society as well as parliament."
Mr Alastair Kent, Director of Genetic Alliance UK, said:
"Understanding the crucial process of embryo development could help us to understand causes of infertility, miscarriage and some genetic diseases. The team at the Crick Institute have explained to the HFEA why they would like to use genome editing to investigate embryo development and the HFEA have authorised the research to proceed. We hope that this avenue of research is fruitful, and that genome editing is as powerful a research tool as it currently seems to be.
"We'd like to underline that the spare embryos that will be used in this work will have been donated for research purposes. Many of the women who make this donation have experienced being unable to have a child without artificial reproductive technology and make their donation altruistically with the hope of allowing others to benefit from improvements in knowledge and treatments. We should acknowledge the contribution that embryo donors make to allow this research to happen.
"Genetic Alliance UK's membership of 180 patient organisations strongly support this work as it may lead to progress in research into genetic conditions, and may eventually lead to the alleviation of the significant unmet need that our members face."