Girls who are born the first in their family are more likely to be overweight or obese compared to their younger sisters, according to a new study from New Zealand and Swedish researchers.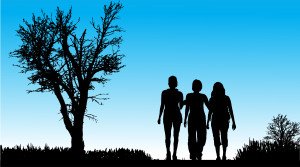 The conclusions were drawn from a study of more than 13,000 pairs of adult Swedish sisters – the largest study of its kind. The findings also match up with previous studies identifying similar patterns in firstborn adult men and in children of both sexes.
"We found that firstborns were nearly 30 per cent more likely to be overweight, and 40 per cent more likely to be obese than their second-born sisters," said senior investigator, Professor Wayne Cutfield of the Liggins Institute at the University of Auckland, in a media release.
The research is published today in the Journal of Epidemiology & Community Health.  Read more about the research on Scimex.org.
The research has been widely covered in New Zealand:
Stuff.co.nz: Firstborn women fatter than their younger sisters, study says
3 News: Study shows firstborns more likely to pile on the pounds
NewstalkZB: Birth order may impact bodyweight
New Zealand Herald:First-born women more likely to be fat – study
TVNZ News: Big sister literally means bigger sister
Yahoo NZ News: First-borns more likely to be obese: study
Otago Daily Times: First-born women more likely to be obese: study