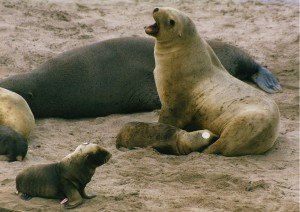 The rare New Zealand Seal Lion has been listed as 'Endangered' by the International Union for Conservation of Nature (IUCN).
The Sea Lion was previously listed as 'Vulnerable' but has been moved to 'Endangered' status following population decline due to disease, habitat modification caused by fishing, and accidental death as a result of bycatch.
You can read more about the announcement, with expert commentary, on the Science Media Centre website.
The Red List Update has received national coverage here in New Zealand:
Stuff.co.nz: New Zealand's sea lion now endangered
New Zealand Herald:New Zealand sea lion now listed as 'endangered'
TVNZ News: Dwindling NZ sea lion numbers sparks call for ban on squid fishing
Radio New Zealand: Govt urged to act over Sea Lion numbers
3 News: NZ sea lions closer to extinction
Examples of overseas coverage include:
New Scientist: IUCN list shows no new extinctions – but they loom large
ABC News: Lions among species decline highlighted by IUCN Red List of endangered species
International Business Times: IUCN Red List shows numerous new extinction threats, few successes
CBS News: Sea lions, orchids among hundreds downgraded on threatened species list