New Zealand's stunning Fiordland punches above its weight when it comes to storing organic carbon, according to a new analysis from US and New Zealand researchers published in Nature Geoscience this week.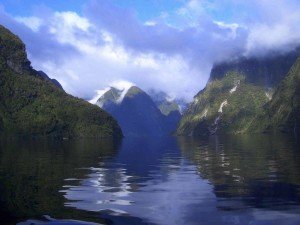 The team of scientists, which includes the University of Otago's Dr Candida Savage, estimate that about 18 million tonnes of organic carbon is buried in fjords each year – equivalent to 11 per cent of the total carbon buried in marine sediments globally.
They calculate that, per unit area, fjord organic carbon burial rates are twice as large as the global ocean average.
"Therefore, even though they account for only 0.1% of the surface area of oceans globally, fjords act as hotspots for organic carbon burial," Dr Savage explains in a media release.
Fjords are long, deep and narrow estuaries formed at high latitudes during glacial periods as advancing glaciers incise major valleys near the coast. Dr Savage says that since fjords are deep and often low oxygen marine environments, they provide stable sites for carbon-rich sediments to accumulate.
She and her research colleagues suggest that due to their storage capacity, fjords may be an especially important influence on atmospheric carbon dioxide levels – known to play a role in climate change – during times when ice sheets are advancing or retreating.
The research has been covered in national and global media. Examples include:
Otago Daily Times: Fiords key in CO2 levels
The New Zealand Herald: Picturesque fjords also bury carbon – NZ researcher
The Daily Mail: FJORDS could help solve global warming as they trap huge quantities of carbon
Wired: Carbon 'hotspot' fjords could hold the secret of mass CO2 capture
CBC News: Fiords store lots of carbon, fighting climate change
International Business Times: Fjords are major carbon sinks burying 18 million tonnes every year
Shanghai Daily: Fjords regulating worldwide climate change: New Zealand research
The SMC collected the following expert commentary. Feel free to use these quotes in your reporting. If you would like to contact a New Zealand expert, please contact the SMC (04 499 5476; smc@sciencemediacentre.co.nz).
Dr Troy Baisden, an expert on the carbon cycle in soils and sediments at GNS Science, comments:
"This excellent work shows how there is still much more to learn about the carbon cycle, both in today's world and in the past. That's very important because the carbon cycle controls climate. It sets the level of the greenhouse gas carbon dioxide in the atmosphere."
"This study provides new methodology for places like Fiordland, and by doing so it shows previous estimates needed big corrections. Fiords are much bigger hotspots of carbon burial than global carbon budgets have accepted."
"We underestimate the global importance of studies like this, where New Zealand's show that our landscape punches above its weight. I've enjoyed the impact it creates when I show other scientists our rates of carbon burial. Scientists sitting in the U.K. or Eastern US have trouble grasping the scale of our mountains, and how storms set loose hillsides of sediment charging down mountain rivers."
"This work follows nicely on other research showing how important hot-spots are in mountainous regions. There's a real opportunity in 'hot spots' to manage the carbon cycle by making sure that after erosion occurs, there is regeneration of productive vegetation, and of soils."
"My only disappointment with this work is that it doesn't reference New Zealand-led science describing how important fiords are compared to other our other hot spots for erosion and burial. I think fiords are probably #3, just behind rivers dumping sediment from the Southern Alps directly into the Tasman Sea. The #1 hot spots are in the East Cape region, where deforestation on soft rocks has filled steep mountainous rivers with sediments."
"It is good to quantify the rates of carbon burial derived from erosion in pristine landscapes like the Southern Alps and Fiordland. But in hot spots like the East Cape, where human land use contributes to the erosion, we can use science to help land owners and councils manage what appears to be a large carbon sink."