The Otago Daily Times reports that a rare serpent-like specimen, known as an oarfish, has been found on the beach in Aramoana, Dunedin.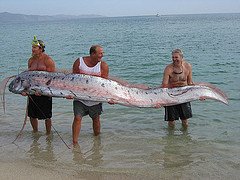 Department of Conservation service manager David Agnew said in his 20 years with DoC, he had never seen anything like the 3 metre specimen.
Director of the Otago University marine studies programme Sally Carson said the oarfish was one of the world's most bizarre and rare fish.
She said the oarfish hangs vertically in deep water and is known to self-amputate by biting off its own tail.
"Why it would do that I have no idea," she said.
Oarfish are the world's largest species of bony fish, and can grow up to 11 metres long (although some species of cartilaginous fish, such as the whale shark, grow longer)
You can read the ODT's full story here
Previous coverage of oarfish sightings:
Smithsonian magazine: Rare footage of the worlds largest fish
Live science: Bizzare deep sea oarfish
Discovery.com: elusive oarfish flimed in rare footage