Humanitarian aid is en route to cyclone-ravaged Vanuatu, but in the midst of the devastation, where do you begin to start on the road to recovery?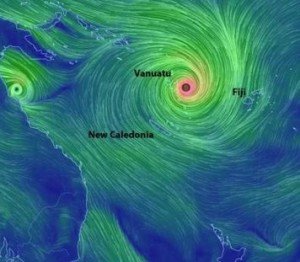 Cyclone Pam has torn through Vanuatu causing wide spread destruction to infrastructure and homes across the island nation. At least 24 are dead and 3,300 people displaced in Vanuatu by the cyclone, according to latest reports.
The Science Media Centre is collecting expert commentary from disaster and emergency management experts.

Mr Jersey Seipel, Lecturer in Logistics & Supply Chain Management, Massey University, comments:
"According to the initial assessments main priorities will be shelter, drinking water, food and re-establishing communications with the outer islands. Municipal power in Port Vila is also disrupted."
"The logistical challenges will be significant, particularly in terms of communications, transportation and needs assessments. Another concern relates to other storm systems in the region, particularly Tropical Cyclone Nathan, over the coming days."
"Some activities, such as pre-positioning of emergency relief items, are planned and carried out in advance, but flexibility, agility and the ability to improvise, are some of the most important aspects of humanitarian aid supply chains.
"The entire country is likely to be affected to some extent by extremely damaging winds, heavy rainfall, storm surges and flooding.
"The government is yet to issue an official estimate of damage and possible casualties, which may take some time, however the Pacific Humanitarian Team, the Office for the Coordination of Humanitarian Affairs (OCHA) and partners, such as the NZ Red Cross, are prepared to support a response to a worst-case scenario."
Jersey Seipel is also a member of the NZ Red Cross Emergency Response Unit, but is commenting in his capacity as a Massey University lecturer.