A group of health experts led by New Zealanders have laid down the global challenge of the world being tobacco-free by 2040, but they admit it requires a 'turbo-charged' effort.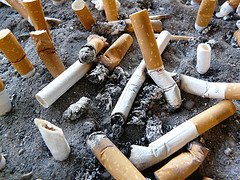 Writing in a major new Series in The Lancet, an international group of health and policy experts, led by University of Auckland Professors Robert Beaglehole and Ruth Bonita, call on the United Nations (UN) to lead a "turbo-charged" effort against the sale and consumption of tobacco.
In a bold move, Beaglehole, Bonita and their colleagues call for the sale of tobacco to be phased out by 2040, showing that with sufficient political support and stronger evidence-based action against the tobacco industry, a tobacco-free world – where less than 5% of adults use tobacco – could be possible in less than three decades.
The Lancet Series will be launched in Abu Dhabi, United Arab Emirates, at the 2015 World Conference on Tobacco or Health. The conference will also host the Luther L Terry Awards where politician Tariana Turia will receive an award for Outstanding Community Service.
The Science Media Centre collected the following expert commentary. Feel free to use these quotes in your reporting. If you would like to contact a New Zealand expert, please contact the SMC (04 499 5476; smc@sciencemediacentre.co.nz).
Prof Janet Hoek, Department of Marketing, University of Otago, and Co-director of ASPIRE 2025, comments:
"Beaglehole et al. call on international organisations, governments, and all sectors of society, to 'turbo-charge' progress to a smokefree world (where prevalence has fallen below five percent).  The authors' call for global action opens the possibility for change on a scale we have not previously seen. Yet, as they explain clearly, their call to action is as achievable as it is ambitious and important. While some specific ideas outlined, including a more sanguine regulatory approach to electronic nicotine devices, will generate debate, others have a compelling evidence base and, if adopted, could herald a massive reduction in the completely avoidable harms caused directly by smoking.  The authors' emphasis on regulating tobacco supply creates opportunities for more innovative policy measures that the government should examine and adopt, if NZ's world-first smokefree goal is to be achieved.
As the first country to set a smokefree goal, New Zealand has an opportunity to lead the world and Beaglehole et al. present an important opportunity for us to reflect on the international leadership we are showing. Inspired by M?ori tobacco control leaders, the smokefree 2025 goal could deliver profound benefits to M?ori, and all New Zealanders, and help inspire international action. However, New Zealand could (and should) be demonstrating stronger leadership if the 2025 goal is to become a reality for all population groups.
Despite very strong public support, our Plain Packaging Bill is still awaiting its second reading.  In the meantime, Ireland and the UK have passed plain packaging legislation and several other countries are moving ahead more quickly than New Zealand.  Although there is very strong public support for mandating smokefree cars where children aged under 16 are passengers, increasing smokefree outdoor spaces, and restricting tobacco supply outlets so these cannot be located near schools,  none of these measures is on the government's policy agenda; nor is achieving reductions in prevalence a health target.  Perhaps most fundamentally, the government has not set a clear strategy for achieving the 2025 goal; this failing puts at risk our ability to demonstrate global leadership.  The opportunity still exists for New Zealand to provide this leadership, but only if the government comprehensively outlines how it will contribute to the vision Beaglehole  et al., have described."
Prof Richard Edwards, Co-Head of Department of Public Health, University of Otago, Wellington and Co-Director of ASPIRE 2025, comments:
"The Lancet article calling for a 'Tobacco Free World' by 2040 and 'turbo-charged' tobacco control efforts to achieve it is a landmark article which moves the debate about smokefree (or 'endgame') goals and visions beyond the national or regional and on to a global level. The Framework Convention on Tobacco Control has galvanised action around the world around an agreed suite of tobacco control priorities. Now the call for a 'Tobacco Free World' raises the possibility of developing a global vision, broad political and societal consensus, and concerted action with the clear goal of achieving a tobacco free future all over the world. This is visionary and ambitious – appropriately so given the continued epidemic of millions of tobacco related deaths which continues in 2015, over 60 years after the original studies demonstrating how smoking caused lung cancer. "
"The paper makes numerous references to New Zealand, and in particular our Smokefree 2025 goal. This goal was and is ground-breaking. In 2011 the New Zealand government was the first government to adopt an explicit goal to end smoked tobacco use altogether, although it is important to remember that the 'Tupeka Kore' vision originated from Maori leaders and was taken up as a recommendation in the  Maori Affairs Select Committee inquiry into the tobacco industry in 2010.  However, this does beg several questions. For example, how is New Zealand progressing with its smokefree goal, and what could New Zealand's role be in supporting the Tobacco Free World?"
"Regarding the first question, the picture is mixed, but there are growing concerns that we may be in danger of losing our way. For example, modelling suggests that business as usual using current interventions are unlikely to be sufficient to achieve Smokefree 2025, particularly among Maori communities. There are no major new tobacco control interventions in the pipeline (although standardised packaging and refreshed pack health warnings are hopefully still on track). More fundamentally, the lack of any comprehensive government plan as to how Smokefree 2025 will be achieved suggests a lack of rigorous planning and of political will and momentum. Regarding the second question, there is plenty that New Zealand could do to help promote and support the Tobacco Free World goal. New Zealand could lead by example, by developing a comprehensive Smokefree 2025 strategy and implementing it. We could give the Smokefree 2025 an appropriate level of priority  by including it as one of the Better Public Service targets. New Zealand could provide regional leadership and support for the Pacific Tobacco Free 2025 initiative. We could argue for tobacco free goals to be incorporated into the FCTC and new sustainable development goals and support the idea of a high level UN tobacco control meeting.
"To conclude, the paper sets out a vision, which if achieved would be one of the great public health triumphs of the 21st century. New Zealand has an opportunity to provide leadership and inspiration. The question is will we do so?"
Assoc Prof Nick Wilson, Co-Director BODE3 Programme, University of Otago, Wellington, comments:
"The Lancet is making a major contribution to global public health with its latest issue and the lead article calling for a 'Tobacco Free World' by 2040. It clearly makes sense to argue for a "turbo charged" approach – given that business-as-usual is typically too slow for most countries. Indeed, if countries stick with business-as-usual, there will still be hundreds of millions of premature deaths from smoking before the tobacco epidemic eventually ends.
"It is quite reasonable to have such ambitious goals when entire diseases have been globally eradicated (ie, smallpox and rinderpest), polio eradication is not far away, and drug treatments are dramatically reducing the burden from HIV/AIDS around the world.
"New Zealand has historically been one of the global leaders in tobacco control – and it continues to make progress. But we too need to be doing more than business-as-usual if our own 2025 smokefree goal is to be achieved. In particularly we need a need to plan for ongoing tobacco tax increases after the current series ends in January 2016. We need standardized (plain) packing passed into law. We also need new laws on expanded smokefree areas eg, to protect children from secondhand smoke in cars and playgrounds. But more importantly we really need one or more major new strategies to ensure success with the tobacco endgame. These might include phasing down of retail outlets or possibly phasing down nicotine levels in smoked tobacco.
Further links from Assoc Prof Wilson