The pharmaceuticals company GlaxoSmithKline (GSK) has said that its potential Ebola vaccine isn't likely to be ready until late 2015.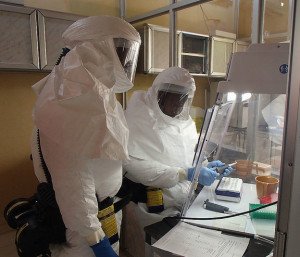 GSK is one of several companies trying to fast-track a vaccine to prevent the spread of Ebola in West Africa, compressing trials that would normally take up to 10 years into just 12 months.
According to GSK's press release, it has completed the first phase of the trials and is now processing the data in order to progress safely to the second phase, which will involve vaccinating thousands of healthcare workers in Liberia, Guinea and Sierra Leone.
In an interview with BBC News, Dr Ripley Ballou, head of GSK's Ebola vaccine research, said full data on its safety and efficacy would realistically not be ready until late 2015.
"At the same time we have to be able to manufacture the vaccine at doses that would be consistent with general use, and that's going to take well into 2016 to be able to do that," he added.
However, even if GSK's vaccine does not work, other Ebola vaccines are being developed by researchers in Canada and Japan.
Our colleagues at the UK SMC collected the following expert commentary. Feel free to use these quotes in your reporting. If you would like to contact a New Zealand expert, please contact the SMC (04 499 5476; smc@sciencemediacentre.co.nz).
Prof David Evans, Professor of Virology, University of Warwick, comments:
"The announcement today that the recombinant adenovirus-based Ebola vaccine in development by GSK will not be ready to combat the current outbreak initially appears a major disappointment. However, the reality is that the current outbreak is unlikely to be controlled quickly and there remain very significant benefits to the rapid development, testing and deployment of new vaccines.
"GSK had originally hoped to fast-track the standard testing programme, compressing what would usually take a decade into as little as a year. Current reported cases and deaths are probably a two-fold (or greater) underestimate, and the WHO prediction is that – by Christmas – new cases could number 10,000 per week. The aid effort is lagging well behind the spread of the infection and the virus is getting increasingly well established in Liberia, Guinea and Sierra Leone. This being the case, it is likely that even with massively increased aid the virus will take very many months or probably years to control in West Africa.
"This means that a successful GSK Ebola vaccine may well be beneficial in controlling the later stages of this outbreak even if it is not available until "well into 2016″, the revised estimated date by which the vaccine could be ready for general use. Furthermore, phase II testing early next year will involve vaccination of frontline healthcare workers, protection of whom is critical for the successful control of Ebola in the community. Finally, the lessons learned by fast-tracking the trials for this vaccine will help prevent delays during future outbreaks of different strains of Ebola, or other known or new infectious diseases."
Prof Jonathan Ball, Professor of Molecular Virology, University of Nottingham, comments:
"A wide-scale roll-out was never really a proposition, but it's potential value in phase II trial focussing on healthcare workers should not be underestimated.
"We have to remember that the drug and vaccine development process is time consuming. Every effort has been made to advance these vaccines into clinical trial and the fact that they might be ready for a phase II safety/efficacy trial, which is likely to focus on healthcare workers, is testament to the hard work that's been going on behind the scenes.
"Getting sufficient feet on the ground in Africa to fight this infection is what is missing at the moment, and infection control remains the only feasible means to bring the outbreak under control.
"Using a vaccine that might confer some degree of protection to those most vulnerable who are fighting Ebola on the front-line has to be a good thing.
"To then ramp up vaccine production to meet a wider need requires substantial manufacturing process development, and this takes time."
Dr Jeremy Farrar, Director of the Wellcome Trust, comments:
"It has always been understood that an Ebola vaccine for use across the general population would not be available for some time, but thousands of doses of the GSK/NIH vaccine will be available early next year if current trials continue to progress well. That is critical: it would mean that high risk groups, especially healthcare workers, could be vaccinated within months, with a real impact on the epidemic. We also do not know how long this epidemic will last: a population-level vaccine available in 2016 could yet make an important contribution. It is absolutely essential that we continue to prioritise rapid development of this and other candidate vaccines."
Prof Adrian Hill, Director of the Jenner Institute, University of Oxford, and lead investigator of a UK safety trial of the GSK/NIH Ebola vaccine, comments:
"The idea that the GSK vaccine is in some way a failure because it will not come soon enough for the current Ebola outbreak is simply incorrect.
"The Ebola vaccine won't be ready for full population immunisation by next summer. That is true. But that was never an objective.
"The aim is to immunise frontline healthcare workers and other first responders in West Africa by January with many thousands of doses, not the population with millions of doses. This will be done while data is collected to tell us whether the experimental vaccine works, and how well it might work.
"Contrary to impressions given, this is happening at remarkable speed with the commitment of all involved and useful deployment on the planned scale would represent great success.
"If the vaccine does provide protection against Ebola, vaccinating doctors and nurses could be very useful. It would offer them some protection (a group at very high risk) and help break the chain of transmission which might well help end the outbreak.
"Vaccine development normally takes 10 or more years. To be able to go from the first safety trials to testing whether a vaccine works and actually using it to help control an outbreak of a horrible disease – all in the matter of weeks and months – that would be something to celebrate."
Declared interests:
Prof Adrian Hill: I am recipient of non-commercial grant funding for the clinical development of vaccines against Ebola and other diseases of low-income countries.
Dr Jeremy Farrar is director of the Wellcome Trust, which is co-funding trials of the GSK/NIH vaccine in the UK and West Africa.
No other interests declared.