I recently had the pleasure of judging the broadcast category of the New Zealand Guild of Agricultural Journalists & Communicators' media awards, which were announced in Wellington on Friday night.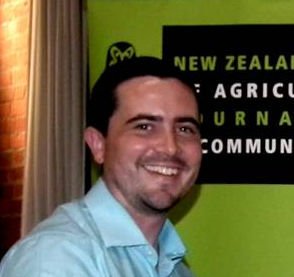 Radio New Zealand rural reporter Benedict Collins not only won the broadcast category but was the supreme winner on the night taking out the Ospri New Zealand Rongo Award.
Benedict has done some great work over the last couple of years at Radio New Zealand so it is excellent to see him recognised in this way. Prior to joining Radio New Zealand, Benedict was a reporter for Country 99 TV, where he memorably confronted noted climate sceptic Lord Christopher Monckton on his claims about climate change, causing Monckton to storm out of the interview.
Benedict's winning broadcast entry was an in-depth, carefully constructed Insight documentary about the impact of climate change on crops. It saw him travel to parts of Asia and interview numerous experts and farmers to ascertain the extent to which climate change is already affecting crop yields and the projections for the future as the climate changes further.
Benedict's piece can be played back here.
Runner-up for the broadcast journalism award was Country TV reporter John Watson who undertook an investigation into a legal fight between farmers who lost their potato crops in flooding of their land, and Horizons Regional Council. John's piece can be viewed here.
Congratulations to Benedict and John and the other winners in the print categories. The quality of the entries suggests agricultural journalism is thriving in New Zealand and that there is an appetite for long-form journalism in the broadcast space.
My judging notes on Benedict Collins' piece:
"In this Insight documentary, Benedict Collins has assembled a large number of interviews and conducted extensive research to present a compelling picture of the challenges climate change poses to agriculture and future food security. The strength of the piece lies in the breadth of perspectives it contains, with rice growers through to climate change experts interviewed and extensive research referenced to clearly outline the evidence base for the claims made in the documentary. The piece stays relevant to the New Zealand audience, while giving listeners a flavour of the more immediate impacts of climate change on agriculture being experienced in parts of Asia that Collins visited in researching his piece. I can think of no other recent examination of the issue of food security by the New Zealand media that goes into such depth and is put together with as much attention to detail and desire to inform the public on a major issue of global importance. This is a solid radio documentary that is of clear interest to farmers, rural communities and urban dwellers alike."
My judging notes on John Watson's piece:
"An excellent piece of investigative journalism that has relevance to all farmers. The piece is well-constructed, fair and balanced and clearly presents the engineering and technical details of the failure that led to the crop damage and resulting legal dispute between the farmers and the Horizons Council. At heart, this is a story about the fortunes of two farmers being ruined through a dispute over liability in the wake of a natural disaster. It therefore contains lessons for all farmers, rural communities and local and regional authorities about land use management and the responsibilities all of the above groups have to each other and to the land. A solid effort from a young journalist who clearly is passionate about his work and methodical in his approach."