A broken collarbone couldn't keep Holly Ryan out of the New Zealand Herald newsroom last week, as the SMC science and innovation intern returned to her keyboard to help the paper assemble coverage of the TIN100 – the annual snapshot of the country's high-tech sector.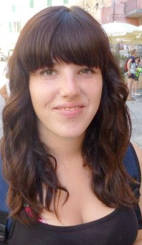 Currently completing a postgraduate diploma in communication studies at Auckland University of Technology, Holly was all lined up to begin her internship at the Business Herald when a fall from her horse north of Auckland nearly put paid to her plans.
But the 22 year-old soldiered on, delicately tapping away,  to deliver a series of stories and profiles on the high-tech sector, which the TIN100 report revealed is now a $7.3 billion industry.
Holly is the second science and innovation intern to spend time at the Business Herald working on science and innovation stories as part of the SMC's internship programme. Last year saw Skye Wishart complete the internship ahead of taking up a fulltime position at Auckland independent magazine publisher Tangible Media, where she contributes science, technology and innovation stories to Idealog magazine and Idealog.co.nz.
Like Skye, Holly completed a science degree at university ahead of attending journalism school.
"Throughout my life I have always had a keen interest in the environment and the majority of my papers at Otago were in Zoology and Ecology," she said.
"While completing my undergraduate degree, I found more and more that many of the major discoveries or innovative technologies were not widely published or well known."
Holly completed a Bachelor of Science degree majoring in Zoology at the University of Otago before taking a break which convinced her that journalism was the career she wanted to pursue.
"I spent six months last year travelling around Europe which only strengthened my resolve to become a science journalist and not just discover amazing things but be able to share them with the public in a relatable and very accessible way."
Holly has also completed internships at the Otago Daily Times and the Bay of Plenty Times, where she mainly focussed on science and environment stories. Her Business Herald internship included a stint the Science Media Centre headquarters in Wellington, where she met and interviewed scientists and executives at the likes of GNS Science, Callaghan Innovation, Creative HQ and Lower Hutt-based tech start-up Times7. She also covered a SMC press conference held with New Zealand lead-authors of the Intergovernmental Panel on Climate Changes new report on the state of climate science.
Holly will now join dozens of journalism graduates around the country seeking work in the media.
Science Media Centre manager, Peter Griffin, said the internship was an opportunity for those students passionate about science to gain the experience and contacts necessary to pursue science journalism.
"We have to be realistic about the fact that there are no dedicated roles for science journalists in the country's newsrooms. But science is a major component of many big headline-grabbing stories, so there is a valuable role for journalists with a science background to play in making sense of these issues and reporting them."
He said the SMC planned to continue the annual internship with the aim of assisting one journalism student with a science degree to join the New Zealand media each year.
"When I read Te Waha Nui and other student newspapers, its clear that the new generation of fledgling journalists is particularly interested in science, environment, technology and health-related stories," said Griffin.
"As a result, the future of science journalism, in all its new and changing forms, looks incredibly promising."
Some of Holly's stories:
Carbon News – IPCC serious over sea levels
Business Herald – Stars align for NZICT companies
Business Herald – Technology industry gets rosy report
Business Herald – Pacific Edge shares soar to new high