Ongoing research at the University of Canterbury has found that the air inside cars contains more pollutants than the air cyclists breathe on the street.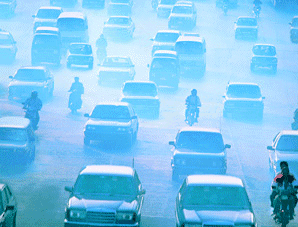 Researchers measured traffic pollution whilst travelling via different transport modes in Auckland and Christchurch. Their latest results, published in the journal Environmental Pollution, found that, in a standard morning commute in pre-quake Christchurch, car occupants were exposed to the most carbon monoxide and ultra-fine particulate matter.
"The air inside motor cars is generally more polluted that the air in buses, trains and for cyclists," said lead researcher Prof Simon Kingham.
Where cyclists rode also had an impact on pollution exposure. "People cycling on the road experience significantly worse quality air than people cycling on routes away from roads," said Prof Kingham.
The research has been covered widely in New Zealand media. Examples include:
Radio New Zealand: Air quality found to be worse in vehicles
New Zealand Herald: NZ air pollution similar to large cities overseas – study
TVNZ News: Car passengers exposed to more pollution
NewstalkZB: Kiwi drivers face same pollution as those in biggest cities
Yahoo NZ News: Road cyclists dose up on dirty air: study