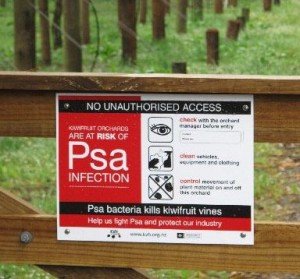 Scientists have mapped the genome of the bacteria responsible for virulent kiwifruit vine disease Psa, providing evidence for the origins and future biosecurity implications of the ongoing outbreak. 
The University of Otago team's study, preliminary results of which were released last year, are published in final form today in the open access journal PLOS ONE.
The researchers analysed strains from China, Japan, Italy, New Zealand and Chile and found evidence that recent outbreaks originated from China.
They also found distinct genetic 'islands' encoding traits that may make the disease more aggressive. These appear to have been transferred from bacterial strains attacking unrelated plants on at least three separate occasions, and may have triggered the virulent outbreaks seen.
The study "Pseudomonas syringae pv. actinidiae from recent outbreaks of kiwifruit bacterial canker belong to different clones that originated in China", by Margi Butler et al., can be read in full online. 
A press release from the University of Otago is available here.
The Science Media Centre has rounded up reaction from experts not involved with the study. For contact details for further follow up, you can reach the SMC on 04 499 5476 or smc@sciencemediacentre.co.nz
Dr Matt Templeton, Host-Microbe Interactions Team Leader within the Bioprotection Technologies Group, Plant & Food Research, comments:
"The paper indicates that China is a likely source of Psa infection. It is important to understand the origin of Psa and its ability to further evolve because this has implication for how we manage the disease in NZ and in particular use our germplasm to breed for resistance.  It also has important implications for our approach to both biosecurity and management, because we need to be sure we're looking out for the right things when protecting our borders and that we're taking the right steps to mitigate impacts post-border. The main conclusion of this paper would be strengthened by the analysis of more isolates from China.
"Our own work uses genomic data to understand population processes and how these shape the population of Psa, including the genetic basis of disease.  This allows predictions as to likely future changes in Psa.   Matching that information with our knowledge of kiwifruit genetics we can then understand more about how Psa infects a plant and how the plant fights back. That's a key factor in breeding kiwifruit vines with natural Psa tolerance. Understanding how Psa may change over time adds to this by giving us some insight into the kinds of breeding strategies that may be required to develop kiwifruit vines that can stay ahead of Psa evolution."
Dr Heather Hendrickson, Lecturer in Molecular Biosciences, Massey University, explains the process of horizontal gene transfer and comments on implications for biosecurity:
"Evolution is generally thought of as a process that takes place through the gradual accumulation of small changes in the genetic material (DNA). Mutations make different versions of an organism and natural selection removes variations that are less fit. The family tree of an organism can therefore be described as a long chain of these gradual changes.
"In bacteria, another process can take place. …Rather than simply inheriting the DNA of a successful member of the previous generation, they can incorporate large regions of DNA from other, unrelated organisms at a single stroke. This process, known as 'horizontal gene transfer', can occur in nature in several ways, one of which is when self-replicating circles of DNA (plasmids) transfer on their own between cells. These plasmids splice themselves into genetic material, essentially becoming part of the bacterium's own DNA.
"These transfers can take place between close kin or extremely distant species. Estimates for the amount of recently acquired genetic material in some bacterial strains has been set as high as 81%. Rather than a slow, steady process, this is evolution in leaps and bounds, and there does not appear to be a limit to the type of traits that can be acquired in this way.
"Though hard numbers for the frequency of horizontal gene transfer in nature are extremely difficult to come by, mounting evidence from completely sequenced bacterial genomes makes it clear that it is a major driving force in bacterial evolution. Transfer of highly undesirable traits from well-developed pathogens already in the environment to unrelated bacterial strains can — and does — take place, as in the case described in this research, linking Psa with hazelnut canker.
"What can be done to prevent this sort of event in the future? What can bio-security do to protect our industries? This is a very difficult question.
"In an ideal world, our procedures would protect us. Today we have no way of predicting the transfer events that will take place, their recipients or the donors. Avoiding importing biological material from countries with high degrees of infection in crops we rely on here would seem a wise recommendation, but this is no guarantee. The selection for bacterial pathogens to adapt to take advantage of crops grown in monoculture is extremely strong."