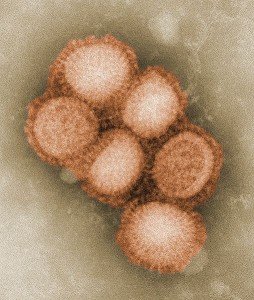 Claims that an influenza epidemic of swine flu proportions are set to overwhelm the country are overblown, according to virologists at the National Influenza Centre. 
Media reports that a 'new strain' of influenza — H3N2 — causing hallucinations and crippling nausea, is heading north from Canterbury, and that flu admissions are at 'epidemic' levels, are out-of-step with the latest surveillance data released yesterday.
ESR's weekly influenza report shows that the current levels of influenza admissions are at 'normal' and 'baseline' levels throughout the country.
A full copy of the report is available on the ESR website [PDF].
Dr Sue Huang is a virologist at ESR and Director of New Zealand's World Health Organisation (WHO) National Influenza Centre. She comments: 
"I do not believe this year's influenza activity will reach an 'epidemic as big as swine flu' [as claimed]. This is because the current predominant influenza strain is A(H3N2). These viruses do not appear to be anything extraordinary and they have not changed as much as the swine flu did.
"We are tracking within range of a typical flu season. In fact, the speed of the increase of the influenza activity this week is slower than last week. This week's influenza -like illness consultation rate is just a third of the 2009 pandemic peak. (108.5 per 100 000 population this week vs 284 per 100 000 during the 2009 pandemic peak).
"I would not call the A(H3N2) virus a new strain yet, since although some minor genetic changes might have occurred, it is still quite similar to the vaccine strain (A/Perth/16/2009) antigenically. This means that the vaccine would still offer significant protection.
"Influenza vaccination is the most effective means of preventing influenza related illness and it is highly recommended."
More information: 
To follow up with Dr Huang and other influenza experts, contact the Science Media Centre on (04) 499 5476, or smc@sciencemediacentre.co.nz
Selected media coverage of influenza outbreak:
Otago Daily Times: Flu-like illness rate triples
NZ Herald: Expert: flu jab offers the best protection
3News: Christchurch flu epidemic heading north
TVNZ:  School closes as flu strikes
Radio NZ – Call for extension of free flu vaccination