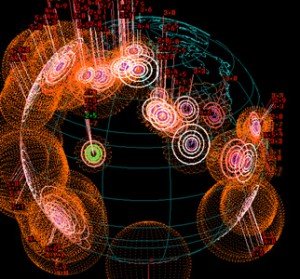 The New Zealand Herald's Paul Harper rounds up the scientific response to last night's quake and tsunami warning in Indonesia.
An excerpt (read in full here):
Indonesian quakes: Horizontal slip prevented tsunami
With memories of 2004's Boxing Day Tsunami fresh in the mind, last night's magnitude 8.6 earthquake sent people along the Indonesian coastline heading for higher ground.
Tsunami watches were issued across the Indian Ocean, however no damaging tsunami materialised from the tremor or any of its large aftershocks.
This was because the earthquake was the result of horizontal movement on a strike-slip fault, rather than a vertical displacement of the sea floor, British Geological Survey seismologist Dr Susanne Sargeant says.
"Strike slip earthquakes are caused when two blocks move horizontally past each other. Such an earthquake would not lead to the vertical displacement of the sea floor that would be required to generate a tsunami. Consequently, the potential for a large tsunami from this earthquake is likely to be low," she said.
While the earthquake was considerably large and shallow – striking at a depth of only 22km, because it was centred some 400km from Banda Aceh the potential for significant damage caused by ground shaking was "relatively low", Dr Sargeant said.
Professor Kevin Furlong from Pennsylvania State University said that although the earthquake struck with the Indo-Australian plate, its occurrence is "almost certainly linked to the plate interactions between Indo-Australian plate and Indonesia".