A leading New Zealand oceanographer is one of a team of international scientists warning that so many threats are converging on the world's oceans, a global, integrated approach is urgently needed.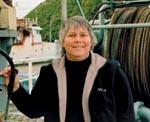 The marine researchers, which includes NIWA biological oceanographer, Dr Julie Hall, have warned that the cost of damage to the world's oceans from climate change could reach US$2 trillion a year by 2100 if measures to cut greenhouse gas emissions are not stepped up.
A jump in the global average temperature by 4degC by the end of the century would not only cause ocean acidification, sea level rise, marine pollution, species migration and more intense tropical cyclones, but would also threaten coral reefs, disrupt fisheries and deplete fish stocks.
Some details of their study, "Valuing the Ocean", were released today with analysis of the most severe threats facing the world's marine environment, including run-off from nitrogen-rich fertilisers and waste which has stripped ocean areas of oxygen and so far caused more than 500 hypoxic "dead zones".
The Stockholm Environment Institute (SEI) leading the research has warned that if emissions are not radically cut, the  cost of damage by 2100 will hit US$1.98 trillion, or 0.37 percent of global gross domestic product.
Loss of tourism would cost at US$639 billion a year, and the  loss of the ocean carbon sink, the seas' ability to soak up carbon dioxide, would cost almost $458 billion, but if  temperature increases could be  limited to 2.2degC, nearly US$1.4 trillion of the projected cost could be avoided.
On Monday (26 March) in London, Dr Hall and one of the Swedish organisers Kevin Noone, will jointly chair a session during Planet Under Pressure, a major international conference focusing on solutions to the global sustainability challenge, which will present key findings of the Valuing the Ocean study.
More general detail is available in international news coverage by Reuters and AFP.  
Dr Hall, a biological oceanographer at the National Institute of Water and Atmospheric Research (NIWA), and her international colleagues have told world leaders preparing for the Rio+20 Earth Summit in June that protecting the oceans must be a priority in global sustainability goals.
They have also recommended that the United Nations appoints a High Commissioner for Oceans to coordinate research and action, that ocean services should be more integrated into economic policy and that there should be more preparation for a 2 metre sea level rise by the end of the century.
Dr Hall chaired the scientific steering committee for a Swedish-based international oceanographic project — Integrated Marine Biogeochemistry and Ecosystem Research (IMBER) – studying the  complex food webs of the coastal and deep ocean, and was co-author of a key chapter in Valuing the Ocean,  which argued that is that the convergence of multiple stressors such as  acidification, ocean warming, hypoxia, sea-level rise, pollution, and overuse of marine resources, could lead to damages far greater than just from individual threats.
"We no longer have the luxury of tackling only one issue at a time," Dr Hall said in a statement.
"We urgently need to devise a management system that works across scales from local to global, and allows us to optimise our use of marine resources in a sustainable way given simultaneous, and often synergistic, threats."
Registered journalists can read the paper in the SMC Resource Library.
Dr Hall, ahead of her trip to London, commented to the Science Media Centre: 
"Our involvement in the  Planet Under Pressure conference is really about raising the awareness of the threats to the ocean and what their implications are.
"Our research focused on six particular impacts or 'stressors'
 Ocean acidification
Ocean hypoxia (low oxygen levels)
Sea level rise
Rising temperature
Pollution, and
Over exploitation of marine resources
"We have taken specifically these six threats and asked 'how do they interact?' – which is the basis of the reviews I was involved in.
 "Our review of the research shows that when it comes to stressors interacting, you can get an additive effect – the impact of one stressor plus another. But you can also get 'synergistic 'effects where you get a reduction in total impact. Or you might get antagonistic effects, where the total negative impact is actually more than you would expect from the additive effect.
"In general more than 30per cent of interactions are antagonistic. And what is probably more critical, is that when you bring more than two stressors together you increase the rate of antagonistic impact by about 30 per cent.
 "I think we are significantly underestimating the overall impact of stressors  because of these antagonistic effects. The problem is currently we tend to look at the impact of say, pollution or ocean acidification as a single stressor; we don't tend to think of them together.
"This is not just important for science; it also has massive implications for policy and resource management. Because of the way our marine resource management and policy systems are currently structured, decision makers tend to think singularly about individual stressors. Policy makers need to take a holistic approach to stressors in the marine environment. It will require a significant change in approach and in thinking. But I believe we really do need to change our approach.
"There are places that have more urgent environmental problems than us – but if we are going to be 'clean green New Zealand', we have to act now. We don't want to get into the position that those other countries are experiencing now. We want to be leaders on these issues and put in place mechanisms that will protect our environment."