An open letter signed by 560 researchers is calling on the government to provide better funding to keep young scientists in New Zealand.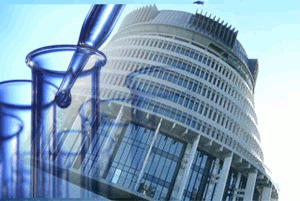 In the letter, addressed to Wayne Mapp, Minister of Science and Innovation, the authors express concern over the lack of research money available to young scientists beginning their careers. They pointed out the fact that the absence of funding has clear consequences:
"All too frequently they [researchers] are forced to seek employment overseas where they eventually settle and often they do not return to New Zealand due to the limited prospects of employment"
A key issue was the removal of FRST-funded Postdoctoral Fellowships, which aimed to retain and attract early to mid-career scientists. The replacement Rutherford Discovery Fellowship, according to the letter writers,  doesn't create the same opportunities for new scientists, apparently instead favouring researchers already based at an institution.
The Ministry of Science and Innovation issued a press release regarding funding for scientists, stating:
"A full review of the Rutherford Discovery Fellowship scheme was planned to take place before December 2012, as set out in MSI's 2011 Statement of Intent, to ensure they are achieving their intended purpose.
"MSI is aware that there are concerns in the research sector about support for early to mid-career researchers, including those who have recently finished their doctorates.  In the light of these concerns in the research sector, MSI will be bringing the review forward.
"MSI chief executive Murray Bain says it is crucial that government support for researchers is targeted where it can deliver the most benefit."
Kiran Chug covered the story for the Dominion Post.
An excerpt (read in full here):
560 researchers warn of being forced overseas
Scientists say insufficient funding for researchers is leaving them no choice but to head overseas.
At a time the Government is pinning its hopes on the science and innovation sector to boost the economy, a group of 560 researchers is warning that the lack of funding opportunities is forcing them to add to the "brain drain".
They have put their signatures on a letter to the Science and Innovation Minister and ministry, the prime minister's chief science adviser, and the Royal Society.
The ministry yesterday announced a review into the support available to mid-career researchers, saying it was aware of concerns.
Researchers say there is a lack of post-doctoral opportunities, as since the disestablishment of Foundation for Research Science and Technology fellowships, only the Rutherford Discovery Fellowships exist.
…
Labour MP David Shearer took the also opportunity to quiz the National Party on science funding during today's question time in Parliament, which you can see on Parliament TV below:
Radio New Zealand's science reporter, Will Hine, followed up the story with Wayne Mapp, Minister of Science and Innovation, Sir Peter Gluckman, the Prime Ministers Chief Science Advisor and Prof James Renwick, President of the New Zealand Association of Scientists.