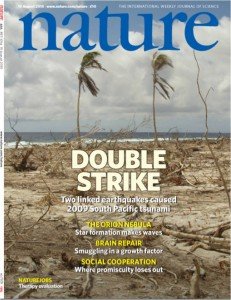 New research into the earthquake responsible for the deadly 2009 tsunami in Samoa and Tonga, has shown that it was caused by not one, but two near-simultaneous massive undersea earthquakes.
The surprise finding helps explain why the resulting tsunami did not fit predictions — i.e. the waves were larger than expected in some areas, while in other areas they failed to arrive at the times anticipated by the warning system.
The New Zealand-led research follows months of detailed analysis of seismic andtsunami data, and features as the cover story in this week's edition of the prestigious science journal Nature.
The Science Media Centre (NZ) held a media briefing with lead author Dr John Beavan of GNS Science ahead of the publication.
LISTEN BACK TO AN AUDIO RECORDING:
[audio:https://www.sciencemediacentre.co.nz/wp-content/upload/2010/08/Double-quake-briefing.mp3]
Click on the audio player above to hear the presentation. Registered journalists can also download Dr Beavan's slides in the SMC Resource Library.
SPEAKER:
Dr John Beavan – GNS Science
John is a geophysicist who explores the deformation of the Earth's surface. As well as being the primary cause of earthquakes, this deformation is the underlying reason for the present appearance of the New Zealand landscape.
He uses geodetic techniques, such as GPS, to precisely measure the deformation associated with plate tectonics, earthquakes and volcanoes. John uses these measurements to investigate the underlying mechanisms behind the deformation, and applies the results to enhancements in the New Zealand survey system and improved estimation of earthquake and volcano hazard.
He has been heavily involved in the development of GeoNet, and is an advisor to a similar project in the Unites States.