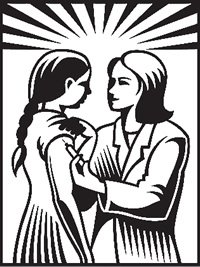 Several recent media reports have questioned the safety record of Gardasil, the human papiloma virus (HPV) vaccine offered free-of-charge to teenage girls in New Zealand, and have linked various adverse effects to the vaccine:
Timaru Herald: Call to shelve vaccine over adverse reactions
TVNZ Breakfast: Gardasil Timaru
TVNZ: West Coast school refuses Gardasil vaccine
Experts from the Immunisation Advisory Centre at the University of Auckland have responded to what they claim is "inaccurate reporting of scientific evidence" in recent media reports with the following statement:
Dr Nikki Turner, Director, Immunisation Advisory Centre and Helen Petousis-Harris, Director of Research, Immunisation Advisory Centre comment,

"Recently we have seen more examples of vaccine safety surveillance data being misinterpreted by both members of the public and the media.  This misinterpretation of adverse events following immunisation (AEFI) data can perpetuate fear and confusion in our communities. Sensible safety surveillance data has been presented in a manner that claims the HPV vaccine Gardasil is the cause of many serious, adverse 'reactions'.  This is false.
"Nothing has changed recently regarding the safety profile of Gardasil, the vaccine used in the HPV immunisation programme.  It has an excellent safety record, is used in over 100 countries across the world, with tens of millions of doses delivered and not one death attributed to the vaccine.
"In New Zealand, unexpected, unexplained or severe events following  immunisation are recorded and reported to the Centre for Adverse  Reaction Monitoring (CARM). Any member of the public or health professional can do this.  Recorded data is used to check for any possible warning signs of new or unexpected concerns that might related to a vaccine.  Deciding if an event is caused or linked to a vaccine is determined only after careful investigation.
"Claiming that all adverse events reported after immunisation were caused by the vaccine is wrong, and shows no understanding of the monitoring system. In regards to Gardasil, some 'serious adverse events' such as fainting episodes or infection at the needle site were associated with having an injection and are not linked to the vaccine itself.  Giving blood or receiving other injections can cause the same events.
"With large numbers of people vaccinated there will always be coincidental (and adverse) events occurring at the same time as an immunisation visit. Careful scientific review and use of large international databases and studies are used to determine whether rare events may or may not be linked to vaccines.  The NZ safety surveillance system is one part of a broad international monitoring system for vaccine safety. The HPV Immunisation programme will have significant benefits for our community's health – Australia has already experienced a dramatic reduction in genital warts after only three years of HPV vaccination.
"Having the choice to receive a free vaccine against cervical diseases and genital warts is a privilege, denied to many women in countries who cannot afford this vaccine. It is important that people considering taking advantage of this free vaccine are given information that is understandable and, most importantly, factual.
"NZ vaccine surveillance data is there for a purpose, as a part of the international surveillance of a vaccine's safety profile. Misuse of this data leads to scaremongering, creates an environment of fear, and promotes myths that can affect the health of our community for a long time to come.    This has happened with other vaccines in the past, and has lead to many children being unnecessarily put at risk.   We hope not to see this again.  Gardasil is an excellent vaccine with robust scientific data to support its use."