An international collaboration involving New Zealand researchers has resulted in a world-first: colour x-ray technology.
The Medipix All Resolution System (MARS) scanner – a type of CT scanner – makes use of technologies first developed for particle physics research at CERN (European Organisation for Nuclear Research), and will enable researchers to better understand conditions which are often fatal.
The imaging chip behind the scanner – the Medipix chip – allows x-rays to be seen in colour, as opposed to the more usual black and white.  While the extra colour information has always been there, technologies up until now have not been able to detect it.  The breakthrough will allow for more enhanced medical imaging.
The scanner is currently being shipped from the University of Canterbury to the US, where it will begin being used in medical imaging.
In addition to the involvement of CERN and the University of Canterbury, other institutions involved are the University of Otago, Mayo Clinic, and the Czech Technical University.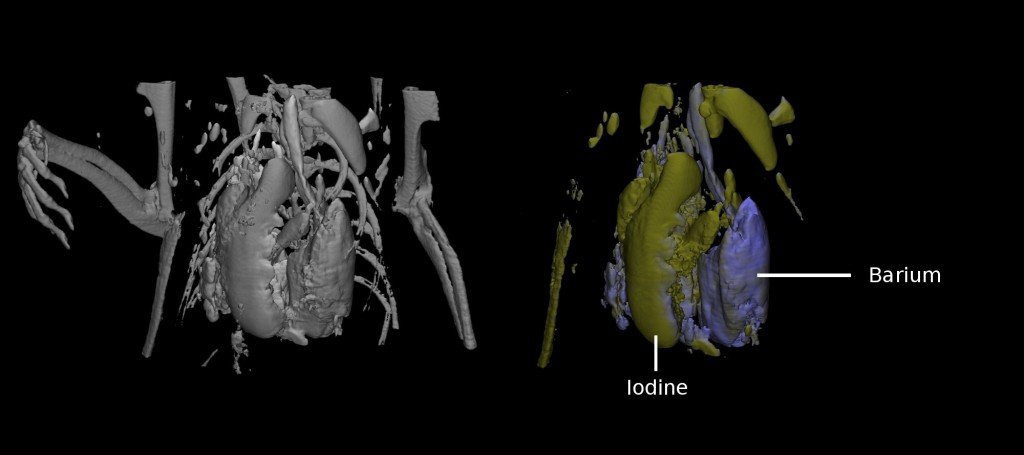 A picture tells a thousand words: Black-and-white vs colour x-rays
The medipix chip
Professor Phil Butler, of the Department Physics and Astronomy at the University of Canterbury, comments:
"The advance in x-ray detection technology gives more information for diagnosis and treatment which will improve healthcare, and save lives. The FRST grant supports a large team of physical and biological scientists, hardware and software engineers, and a range of medical researchers."
"One of the notable threads in this project is the extent of the national and international collaborations involved."
Dr Anthony Butler, Radiologist at the University of Otago Christchurch and the University of Canterbury … comments:
"I became interested in clinical applications of technology a few years ago when I was visiting CERN (European Organisation for Nuclear research – home of the Large Hadron Collider). At the time I met Michael Campbell and his team who were building x-ray detectors using CERN's skill in energy selective photon counting detectors. We saw the potential of these to be used in clinical applications. The Medipix collaboration, lead by CERN, consists of 18 institutes and universities around the world. We are all working towards the goal of improving the imaging technology used in medicine.
"Being a radiologist with a background in physics and engineering I was convinced that the technology would of great benefit in clinical radiology. When I returned to NZ we started a program to prove the clinical potential of Medipix technology. In 2006 we took our first images of surgical specimens. By mid 2007 we had a built a multi-energy (spectroscopic) microCT suitable for mice and pathology specimens. We dubbed our system MARS (Medipix All Resolution System) since it provides energy resolution as well as the temporal and spatial resolution of current CT scanners.
What are the key implications of your study?
"Clinical implications of using multiple contrast agents include being able to perform triple phase scans in a single pass. e.g. In one scan a "triple phase" study could be performed to provide non-contrast, portal venous phase, and delayed phase. This technique reduces patient x-ray dose and has no patient movement between phases.
"In addition…these advanced contrast agents, coupled with multi-energy CT, will provide similar information to what is currently only obtainable on MRI or PET."
Further Information
More pictures are available – please credit the MARS scanner project appropriately if using.
To talk to any of the experts quoted above contact the Science Media Centre on tel: 04 499 5476 or email: smc@sciencemediacentre.co.nz.