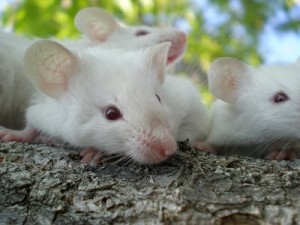 Scientists are examining mice DNA here and abroad, using genetics to determine human patterns of migration over centuries of colonisation and international travel.
And it appears that New Zealand's cultural mix has created a "genetic melting pot" of several subspecies of mice.
While the nineteenth century saw a large influx of mice to New Zealand from Britain, the genes of subspecies of our common house mice also reveal origins from eastern Europe and southern Asia.
These findings appear in two papers just published in the scientific journal Proceedings of the Royal Society B. The paper Of mice and (Viking?) men: phylogeography of British and Irish house mice can be downloaded here.
The New Zealand specific research The diverse origins of New Zealand house mice, is available here.
The New Zealand research was led by researchers at Waikato University. Co-author Dr Mark Stevens (formerly of the Allan Wilson Centre at Massey University now at South Australian Museum, Adelaide) comments:
"For centuries, humans have accidentally carried house mice across long distances in wagons and ships. The global colonisation history of mice (revealed by the geographic distribution of genetic traits, particularly DNA sequences) reflects the history of human movements around the world.
"New Zealand was free of mice until the arrival of Europeans, because there were no mice in the Pacific islands at the time of Polynesian settlement (about 1250-1300 AD). Mice accompanied the first Europeans to Australia, and established there from 1788 onwards.
"The first mice to reach New Zealand came hitchhiking with traders and sealers based in Australia, who worked the New Zealand coast and offshore islands for decades before the start of organised European settlement in New Zealand from 1840. Then the mainland was colonised by a large influx of house mice carried by settlers direct from the British Isles and continental Europe.
"The dominant form of house mice in New Zealand now is the west European subspecies, but in places subspecies have interbred with mice from eastern Europe. In addition, a different subspecies of house mice from southern Asia also lives in parts of New Zealand and some offshore islands. The mice of New Zealand well reflect the diverse origins of people and their goods arriving here, creating a genetic 'melting pot' of mice which pre-date European settlement."
To speak to this expert or others, contact the Science Media Centre on 04 499 5476 or smc@sciencemediacentre.co.nz
Research references:
doi:10.1098/rspb.2008.0958
doi:10.1098/rspb.2008.0959
Notes to Editors
The Science Media Centre (SMC) is an independent source of expert comment and information for journalists covering science and technology in New Zealand. Our aim is to promote accurate, bias-free reporting on science and technology by helping the media work more closely with the scientific community. The views expressed in this Science Alert are those of the individuals and organisations indicated and do not reflect the views of the SMC or its employees. For further information about the centre, or to offer feedback, please email us at smc@sciencemediacentre.co.nz.