'Media, disasters and the public' — A communications workshop for natural hazards researchers, scientists and engineers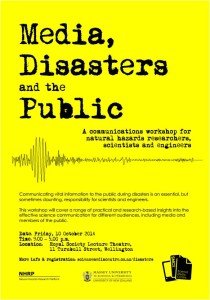 Communicating vital information to the public during disasters is an essential, but sometimes daunting, responsibility for scientists and engineers.
This workshop will cover a range of practical and research-based insights into effective science communication for different audiences, including media and members of the public.
Date: Friday, 10 October 2014
Time: 9:00 a.m. – 5.00 p.m.
Location: Wellington – Royal Society of New Zealand
Fees: $120 (Natural Hazard Research Platform members qualify for 50% subsidy – please contact NHRP for more details)
This workshop has been organised with support from: Natural Hazards Research Platform; Joint Centre for Disaster Research (Massey/GNS); Science Media Centre; Massey University; Engaging Social Science (eSocSci); and the Royal Society of New Zealand.
Click on the image at right to download a printable flyer for this event.
 UPDATE: Audio and slides from selected sessions now available online.
Final programme now available – DOWNLOAD PDF version with speaker bios
| | | |
| --- | --- | --- |
| | Media, disasters and the public workshop – Friday 10 October | Final programme |
| Time | Session | Speaker(s) |
| 9:00 | Opening remarks | Peter Gluckman (Prime Minister's Chief Science Adviser) |
| 9:15 | Experiences from the 'front lines' | Kelvin Berryman (Natural Hazards Research Platform) |
| 9:30 | ACTIVITY: Media experiences, stereotypes and fears | Sara McBride (Joint Centre for Disaster Research), Dacia Herbulock (Science Media Centre) |
| 10:00 | Science communication throughout the scientific process | Mark Quigley (University of Canterbury) |
| 10:40 | MORNING TEA | |
| 11:00 | Translating 'science speak' for the public in disaster | Julia Becker (GNS Science) |
| 11:15 | How the changing media landscape affects you | Peter Griffin (Science Media Centre) |
| 11:35 | What to do with politicians in a crisis | Steve Maharey (Massey University) |
| 12:00 | ACTIVITY: Scientists on camera – what your audience sees | Dacia Herbulock (SMC) |
| 12:35 | LUNCH | |
| 1:15 | Breakout sessions A / B | |
| | A: Social media | Sara Page (GeoNet), Kimberly Collins (Tweet Your Science) |
| | B: Trauma: what the audience hears | Ian de Terte (Massey), Elspeth Tilley (Massey) |
| 2:00 | Breakout sessions C / D | |
| | C: Strategies for communicating uncertainty | Emma Hudson-Doyle (JCDR), Jared Thomas (Opus), Dacia Herbulock (SMC) |
| | D: Lessons from Cyclones Lusi, Ita and the Matariki storm | Kerry McSaveney (Wellington Regional Emergency Management Office), Jacqui Bridges (MetService) |
| 2:45 | AFTERNOON TEA | |
| 3:00 | What media need in a crisis: Journalists' perspectives | Paul Gorman (The Press), Renee Graham (TVNZ) |
| 3:30 | DISCUSSION | |
| 4:00 | Unified voice or multiple perspectives in public: Is consistent messaging important for scientists? | Chair: Peter Griffin, Panel: Paul Gorman, Kelvin Berryman, Mark Quigley, Helen Jack (ECan) |
| 4:45 | Concluding remarks | Kelvin Berryman |
| 5:00 | DAY ENDS | |
For more information, contact Dacia Herbulock on 04 499 5476 or smc@sciencemediacentre.co.nz